Find Your Mercedes Engine Number
All Mercedes vehicles made since 1959 come with a number stamped onto their engine block that will tell you just about everything you need to know about the car (this number matches the VIN). Jump to engine manuals listings below
How to Read Mercedes Engine ID Numbers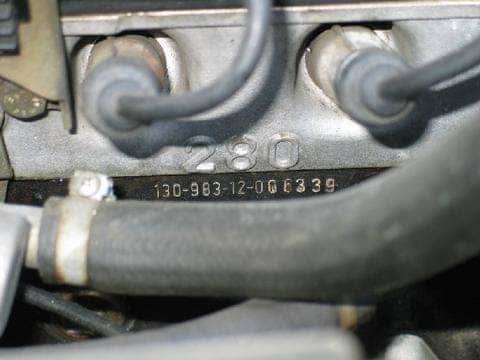 If you know how to read Mercedes engine ID numbers, you will be able to quickly locate the part you need. Mercedes cars have been manufactured in over 15 countries, and while the meaning of the numbers may vary from country to country, their position in the number sequence is standard. Knowing what part of the engine ID number to enter into a parts search engine is half the battle to finding the correct piece for your engine.
Open the hood of your Mercedes. Locate the stamped engine ID number on the top or side of the engine block, towards the rear of the engine.
The letter or letters that begin the engine ID number indicate the style of motor (sedan, touring, roadster and so on). See the chart listed in the resources below for a comprehensive definition of the letters and their meaning.
The first three numbers correspond to the type of engine that you have (diesel, oil and such). For example, an M116 type engine would have an engine ID number that begins with "116" and an M114 type engine would begin with "114."
The next three numbers indicate what version of motor it is (i.e. 2.2 lt, 2.3, 6 cyl, 8 cyl and so on). One type of motor may have many different possible versions.
The next two numbers will tell you where the engine was installed, what side driving it was for (left or right) and the type of transmission associated with it. After 1983, the second number in this set was replaced with a letter. A series of letters (like A,B,C,D,E) was assigned to each factory.
The remaining set of numbers is the specific serial number of your engine.

Tip: always verify that the number stamped on the engine block matches the VIN number attached to the frame of the car. If the engine has been replaced with a different model and you just refer to the VIN, you could waste time and money getting parts that will not work.
---
Mercedes Benz Engine Manuals
Do you have a manual that is "unlinked (missing from the list below?)" earn generous credit toward website purchases. Submit your manual for credit - Contact Us
Mercedes Benz Gasoline Engine Service Repair Manuals

Fuel Injection Manuals

Mercedes Benz Diesel Engine Service Repair Manuals

Fuel Injection Manuals

Detroit Diesel Engines - A DaimlerChrysler Company

Mercedes / Detroit Diesel Motor Service Manuals

Parent Company: Daimler Trucks North America - Daimler AG
MBE 900
MBE 4000

Series 50
Series 60
DD15TC

Series 40E
Series 51
Series 53
Series 55
Series 71
Series 92

Series 110
Series 149
Series 638
Series 700
Series 2000
Series 4000
Survey List of Mercedes Benz Engines
Petrol engines

Diesel engines

Straight-three

M160, 0.6 – 0.7 L (1998–2007)
M281, 1.0 L (2014–present)

Inline-four

M23, 1.3 L (1933–1936)
M30, 1.5 L (1934–1939)
M136, 1.7 – 1.8 L (1935–1955)
M121, 1.9 – 2.0 L (1955–1968)
M118, 1.5 – 1.8 L (1965–1972)
M115, 2.0 – 2.3 L (1968–1985)
M102, 1.8 – 2.5 L (1980–1996)
M111, 1.8 – 2.3 L (1992–2006)
M166, 1.4 – 2.1 L (1997–2005)
M271, 1.6 – 1.8 L (2002–2015)
M266, 1.5 – 2.0 L (2004–present)
M270, 1.6 – 2.0 L (2011–present)
M200, 1.2 L (2012–present)
M274, 1.6 – 2.0 L (2012–present)
M133, 2.0 L (2013–present)
M260/M264, 1.5 – 2.0 L (2017–present)
M282, 1.3 L (2018–present)

Straight-six

M836, 4.0 L (1924–1929)
M9456, 6.3 L (1924–1929)
M02, 2.0 L (1926–1933)
M03, 3.0 L (1926–1927)
M04, 3.0 – 3.1 L (1927–1928)
M09, 3.4 L (1928–1929)
M06, 6.8 – 7.1 L (1928–1934)
M10, 3.5 L (1929–1933)
M11, 2.6 L (1929–1935)
M15, 1.7 L (1931–1936)
M18, 2.9 L (1933–1937)
M21, 2.0 L (1933–1936)
M143, 2.2 L (1936–1941)
M142, 3.2 L (1937–1942)
M153, 2.3 L (1939–1943)
M180, 2.2 – 2.3 L (1951–1980)
M186, 3.0 L (1951–1958)
M188, 3.0 L (1952–1958)
M194, 3.0 L (1952)
M198, 3.0 L (1954–1963)
M199, 3.0 L (1955–1958)
M127, 2.2 L (1958–1964)
M189, 3.0 L (1958–1967)
M129, 2.5 L (1965–1967)
M108, 2.5 L (1965–1967)
M130, 2.8 L (1968–1972)
M114, 2.5 L (1967–1972)
M123, 2.5 L (1976–1985)
M110, 2.8 L (1972–1986)
M103, 2.6 – 3.0 L (1984–1995)
M104, 2.8 – 3.6 L (1989–1997)
M256, 3.0 L (2017–present)

V6

M112, 2.4 – 3.7 L (1997–2005)
M272, 2.5 – 3.5 L (2004–present)
M276, 2.8 – 3.5 L (2014–present)

Straight-eight

M08, 4.6 – 5.0 L (1928–1939)
M07, 7.7 L (1930–1938)
M19, 3.8 L (1932–1933)
M22, 3.8 – 4.0 L (1933–1934)
M24, 5.0 – 5.4 L (1934–1944)
M150, 7.7 L (1938–1944)
M124, 5.8 L (1939) (prototype)

V8

M100, 6.3 – 6.9 L (1963–1981)
M116, 3.5 – 4.2 L (1969–1991)
M117, 4.5 – 5.6 L (1971–1992)
M119, 4.2 – 6.0 L (1989–1999)
M113, 4.3 – 5.5 L (1997–2012)
M155, 5.4 L (2004–2009)
M156, 6.2 L (2006–2014)
M273, 4.7 – 5.5 L (2005–2010)
M159, 6.2 L (2009–2014)
M278, 4.7 L (2010–present)
M157, 5.5 L (2010–present)
M152, 5.5 L (2012–2015)
M177/M178, 4.0 L (2014–present)
M176, 4.0 L (2017–present)

V12

MB503
MB509, 44 L (used in Panzer VIII Maus V1)
M120, 6.0 – 7.0 L (1991–1998)
M297, 6.9 – 7.3 L (1997–2016)
M137, 5.8 – 6.3 L (1999–2002)
M285, 5.5 L (2003–2012)
M275, 6.0 L (2004–2015)
M279, 6.0 L (2012–present)
M158, 6.0 L (2012–present)
M277, 6.0 L (2014–present)

Wankel

M950F, 1.8 – 2.4 L (1969–1970)

One-cylinder

MB851, 1.5 L
MB861, 1.5 L

Two-cylinder

MB852, 2.9 L
MB862, 2.9 L
OM632, 0.8 L
M202B, 6.5 L (1947–???)

Straight-three

MB853, 4.3 L
M203B, 9.7 L (1947–???)
MB863, 4.3 L (1954–???)
OM660, 0.8 L (1998–2015)
OM639, 1.5 L (2004–2009)

Inline-four

OM138, 2.5 L (1935–1940)
OM636, 1.7 – 1.8 L (1949–1990)
OM621, 1.9 – 2.0 L (1959–1967)
OM615, 2.0 – 2.2 L (1968–1985)
OM616, 2.4 L (1973–1985)
OM601, 2.0 – 2.3 L (1983–2001)
OM604, 2.0 – 2.2 L (1993–1998)
OM668, 1.7 L (1997–2005)
OM611, 2.1 – 2.2 L (1998–2011)
OM646, 2.1 L (2002–2010)
OM640, 2.0 L (2004–2012)
OM651, 1.8 – 2.1 L (2008–present)
OM654, 2.0 L (2016–present)
OM699, 2.3 L (2017–present)
OM608, 1.5 L (2018–present)

Inline-five

OM617, 3.0 L (1974–1991)
OM602, 2.5 – 2.9 L (1985–2002)
OM605, 2.5 L (1993–2001)
OM612, 2.7 L (1999–2006)
OM647, 2.7 L (2004–2006)

Straight-six

OM603, 3.0 – 3.5 L (1986–1997)
OM606, 3.0 L (1993–2001)
OM613, 3.2 L (1999–2003)
OM648, 3.2 L (2002–2006)
OM656, 2.9 L (2017–present)

Buses and trucks:

OM5, 8.6 L (1928–1932)
OM49
OM54, 12.5 L (1934–1939)
OM57, 11.3 – 12.5 L (1938–1940)
OM65
OM67, 7.2 – 7.4 L (1935–1954)
OM77
OM79, 10.3 L (1932–1936)
OM302, 4.6 L (1941) (prototype)
OM312, 4.6 L (1949)
OM314, 3.8 L
OM315, 8.2 L
OM321, 5.1 – 5.7 L
OM326, 10.8 L
OM346, 10.8 L
OM355, 11.6 L
OM360, 8.7 L
OM352, 5.7 L (1963–present)
OM364, 4.0 L
OM366, 6.0 L
OM407
OM427
OM447
OM457, 12.0 L (2003–present)
OM460
OM470, 10.7 L
OM471, 12.8 L
OM472, 14.8 L
OM473, 15.6 L (2012–present)
OM906, 6.4 L
OM926, 7.2 L
OM936, 7.6 L (2012–present)

V6

OM642, 3.0 L (2005–present)

Buses and trucks:

OM401, 9.6 L
OM421, 11.0 L (1982–???)[3]
OM441
OM501, 12.0 L

V8

OM628, 4.0 L (1999–2005)
OM629, 4.0 L (2005–2010)

Busses and trucks:

V10

V12

OM404, 20.9 L
OM424
OM444, 22.6 L
MB500, 66.4 L (used in e-boats)
MB507, 42.4 – 44.5 L
MB512
MB517, 42.4 L (Panzer VIII Maus V2)
MB820
MB835

V16

MB502
MB512
MB839, 104.3 L

V20

MB 501
MB 511
MB518, 134.4 L (1951–1973)

Natural gas engines

M366
M407 (LPG)
M447
M906