Mercedes M116 Engine Manual
M116 Mercedes-Benz Engine Overview
The Mercedes Benz M116 V8 engine was manufactured in several versions by Mercedes-Benz between 1969 and 1991. These gasoline powered motors utilized a single overhead camshaft with 2 valves per cylinder and Bosch Jetronic fuel injection. The larger M117 V8 followed, introduced initially in the US market.
---
Mercedes Benz M116.96x – 3.8 Liter V8 Engines
M116.960, M116.961, M116.962, M116.963
Download English Language: MB 380 3.8L Engine Motor Manual
Download Desktop PC Installation Version 42.4mb
Engine Repair Manuals M116.960 – M116.962 V8 Motors
Delivery By Download Link: Sent to your PayPal email address: $14.95
---
Displacement Versions;
Cylinder Block; Cast Iron 1969-1978, Aluminum 1978-1991
Cylinder Head; Alloy Aluminum
Valve-train; SOHC (Single Over Head Cam)
Layout Configuration; 90° V8 engine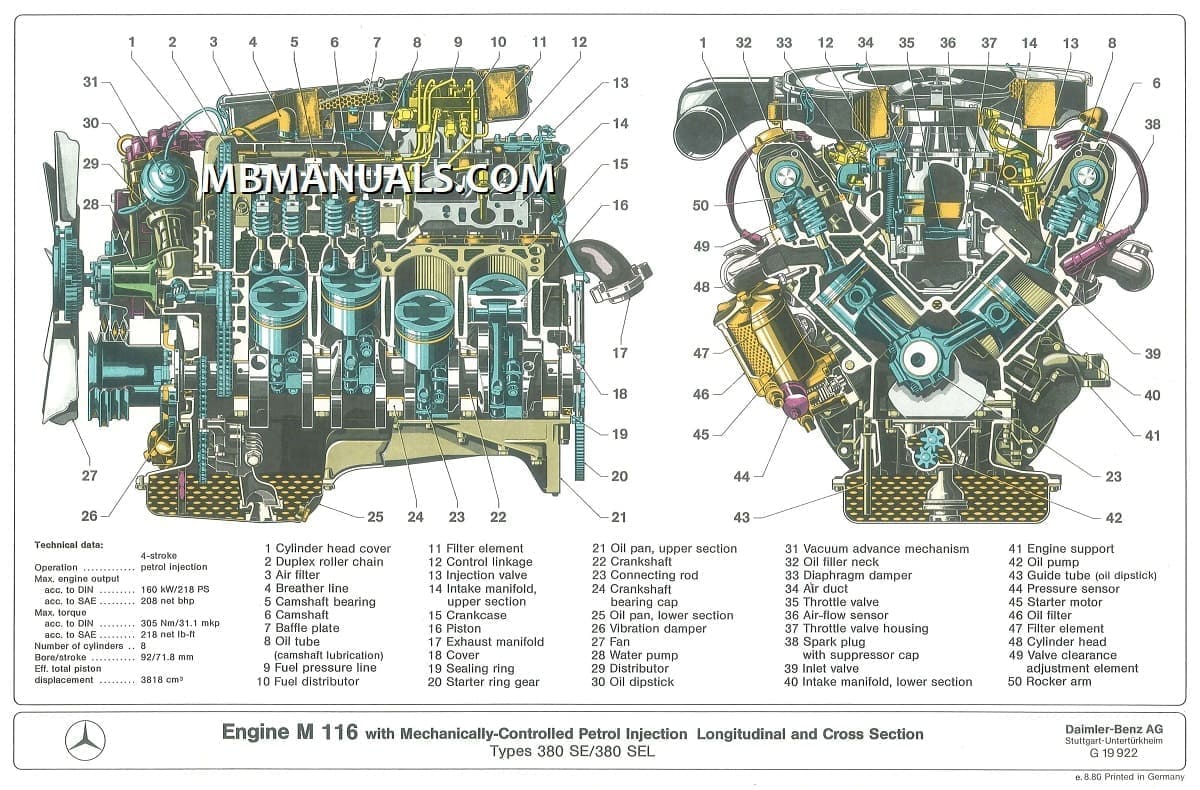 ---
Mercedes Benz M116.980 – 3.5 Liter V8 Engine
The original M116 engine 116.980 was introduced August 1969 in the 300SEL 3.5. It featured 9.5:1 compression with 200 PS (150 kW; 200 hp) @ 5800rpm and 286 N·m (211 lb·ft) @ 4000rpm. This was enough to propel the 1,575 kg (3,472 lb) saloon to a top speed of 200 km/h (124 mph). This engine and its twin, the 116.981 remained in production until 1980 when it was replaced by its larger 3.8 liter variant.
Bore x Stroke: 92mm x 65.8 mm Displacement 3499cc
Vehicle Application
1971-1980 Mercedes-Benz C107
1971-1980 Mercedes-Benz R107
1970-1972 Mercedes-Benz W108
1969-1972 Mercedes-Benz W109
1970-1971 Mercedes-Benz W111
1973-1980 Mercedes Benz W116
---
Mercedes Benz M116.960 – 3.8 Liter V8 Engine
The 116.960 engine was introduced in 1979 featuring 8.3:1 compression with 158 PS (116 kW; 155 hp) @ 4750rpm and 266 N·m (196 lb·ft) @ 2750rpm. This engine reached North America later for the 1981 380SL. There were 4 versions of this engine, 116.960, 116.961, 116.962, and 116.963 Early models through 1983 came with a single row timing chain that was plagued with failure problems. Mercedes-Benz changed these to a dual row timing chain free of charge for customers as needed. All 1984+ models came equipped with the double row timing chain from the factory. This engine was replaced for the 1986 model year by its larger 4.2 liter variant.
Bore x Stroke: 88mm x 78.9mm Displacement 3818cc
Vehicle Application
1980-1982 Mercedes-Benz C107
1980-1985 Mercedes-Benz R107
1979-1985 Mercedes-Benz W126
Mercedes Benz M116.965 – 4.2 Liter V8 Engine
The 116.965 engine was introduced in 1986 for the revised S-Class. It featured 9.0:1 compression and had from 204-231 PS (150-170 kW; 201-228 hp) depending on year and export market. All engines were mated to the Mercedes-Benz 4G-Tronic transmission. In North America, this engine was only used in 420SEL models featuring 204 PS (150 kW; 201 hp) @ 5200rpm and 310 N·m (229 lb·ft) @ 3600rpm. This engine was used until 1991 when it was replaced by the 4.2L Double overhead camshaft Mercedes-Benz M119 engine.
Bore x Stroke: 92mm x 78.9mm Displacement 4196cc
Vehicle Application
1986-1989 Mercedes-Benz R107
1986-1991 Mercedes-Benz W126