Mercedes OM616 Diesel Engine Manual
The Mercedes Benz 2.4L OM616 Diesel Engines 1973 to 1985+
---
Download: Mercedes Benz OM616 Engine Motor Manuals
Mercedes OM616 Diesel Engine Manual
Download: 53.6mb, flash, .pdf
Application: W115, W123, W460, W631-MB100

Delivery By Download Link: Sent to your PayPal email address: $19.95
---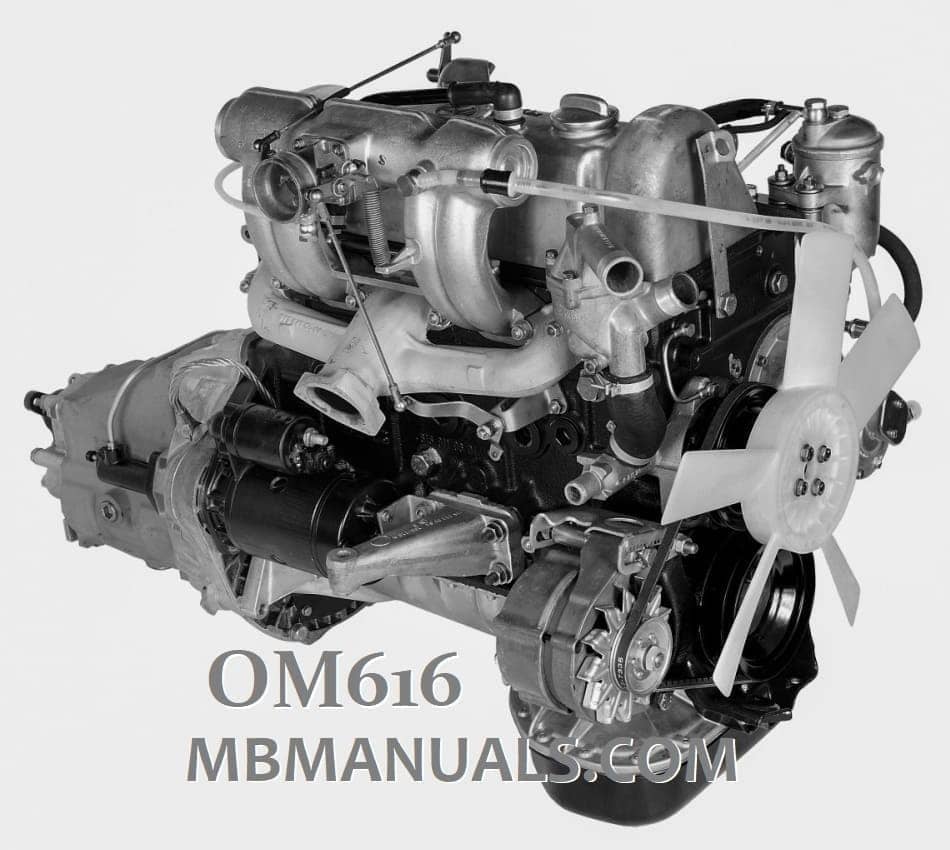 In 1982, India Bajaj Tempo, now Force Motors, signed a deal with Daimler Benz to manufacture the OM616 Mercedes engine for fitting in its line of vehicles. This Mercedes engine gave the company a technological edge over other Indian manufacturers leading to the success of several Bajaj Tempo models.
The OM616 engine family is a diesel automobile Inline-four engine that Mercedes-Benz used in the 1970s and 1980s, and has been produced by Force Motors in India from the 1980s to the present. This engine was used in various cars, vans and Unimogs over its production lifetime, and still finds use in Force Motors SUVs.
The abbreviation ¨OM¨ stands for ¨Oel-Motor¨ (Oil Motor) "Diesel", which refers to the fact that it runs on oil. This method of naming is still used on Mercedes-Benz diesel engines today.
---
The Mercedes-Benz OM616 engine was a 2.4 L (2,404 cc) engine with power output of 48 kW (64 hp). In August 1978 the pre-combustion chamber was updated for more swirl and more efficient combustion. The new camshaft pushes the valves deeper so the air and smoke gases have less resistance. The engine capacity was lowered to 2.4 L (2,399 cc) to satisfy engine displacement tax laws in Europe, but power output rose to 54 kW (72 hp). A similar power update around this time was also done on the OM615 and OM617 engines.
The Mercedes OM 616 and its variants still power the light commercial vehicles of Bajaj Tempo, including the Tempo Traveller, the new Excel series of trucks and the Trax range of multi-utility vehicles. At present, Force Motors is also assembling other Mercedes engines and supplying it to Mercedes Benz India Ltd.
Version Application Survey OM616 Diesel Engines
OM616.912 63 kW (84 hp)
OM616.916 48 kW (64 hp)
1973-1976 W115 (240D)
1976-1985 W123 (240D)
OM616.936 53 kW (71 hp)
OM616.937 53 kW (71 hp)
Later, more powerful versions of the OM616 are interchangeable with early ones. This is done with many older transporter vans and campers like the 207D and 307D models. It is not possible to change only the cylinder head for one with the higher rating, since the higher valve lift of the later versions will interfere with the early pistons.
| | | |
| --- | --- | --- |
| Engine | Year | Model |
| OM616.912 | 1979-1985 | Mercedes Benz W123 240D |
| OM616.913 | 197-1985 | Mercedes Benz TN |
| OM616.916 | 1973-1977 | Mercedes Benz W114/W115 |
| OM616.916 | 1977-1985 | Mercedes Benz TN |
| OM616.916 | 1976-1986 | Mercedes Benz W123 240D |
| OM616.936 | 1973-1995 | Mercedes Benz TN |
| OM616.936 | 1979-1991 | Mercedes Benz G-Class W460 |
| OM616.936 | 1981-1995 | Mercedes Benz W631 MB100 |
| OM616.937 | 1979-1985 | Mercedes Benz TN |
The Bajaj Tempo OM616 engine is configured for different power outputs depending on the intended usage, from a 65 bhp (48 kW) version, to the 91 bhp (68 kW) Turbocharged version used in the Trax Gurkha (Which is superficially similar to the Geländewagen design).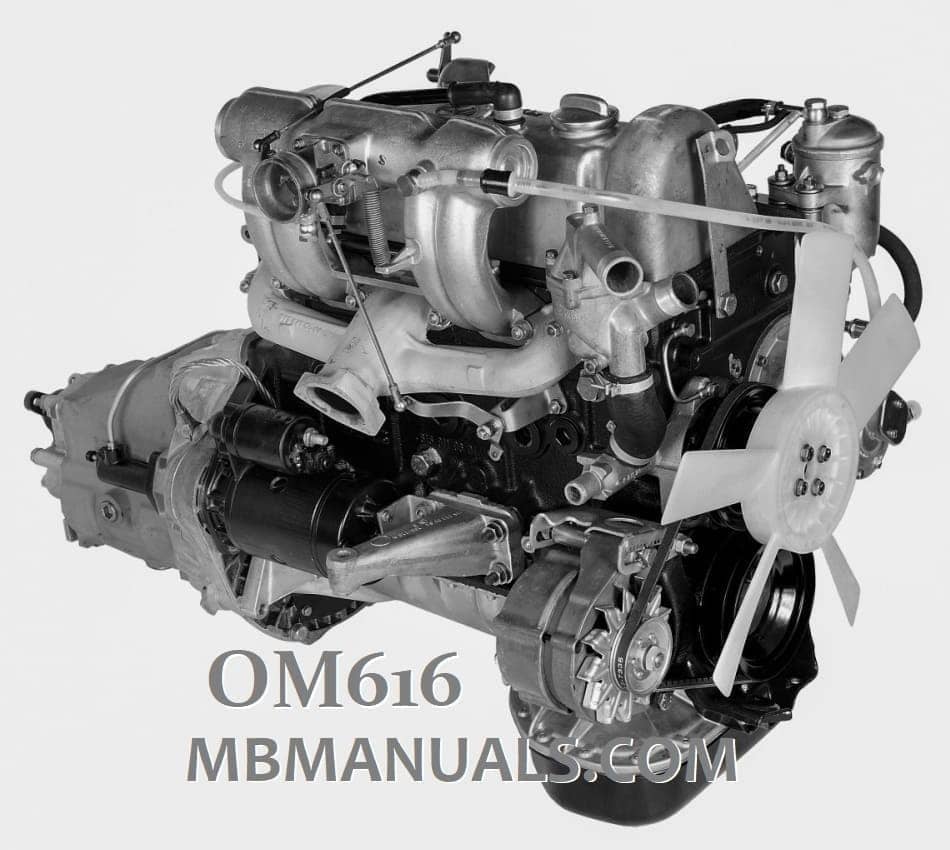 OM616 Engine Variants Specs
Model OM616 Type 4 Cylinder, 4-Stroke
Air filter Oil Bath Type
Oil filter Bye pass flow type paper filter
Fuel filter Dual filter
Oil sump capacity 6.5 L (6.9 US qt; 5.7 imp qt)
| | | | | | | | | | |
| --- | --- | --- | --- | --- | --- | --- | --- | --- | --- |
| Variants | Cam | CCM | Cylinders | Valve | Comp. | Perform | Torque | Bore Stroke | Production |
| OM616.912 | OHC | 2 399 | 4 In-Line | 8 | 21 : 1 | 53 kW | 137 Nm | 90.9 x 92.4 | 1979 - 1985 |
| OM616.913 | OHC | 2 399 | 4 In-Line | 8 | 21 : 1 | 53 kW | 137 Nm | 90.9 x 92.4 | 1979 - 1985 |
| OM616.916 | OHC | 2 404 | 4 In-Line | 8 | 21 : 1 | 48 kW | 137 Nm | 91 x 92.4 | 1973 - 1976 |
| OM616.916 | OHC | 2 404 | 4 In-Line | 8 | 21 : 1 | 48 kW | 137 Nm | 91 x 92.4 | 1976 - 1985 |
| OM616.936 | OHC | 2 399 | 4 In-Line | 8 | 21.5 : 1 | 55 kW | 137 Nm | 90.9 x 92.4 | 1973 - 1995 |
| OM616.937 | OHC | 2 399 | 4 In-Line | 8 | 21.5 : 1 | 53 kW | 137 Nm | | 1979 - 1985 |