Mercedes M119 Engine Service Manual
The Mercedes Benz 4.0 6.2 Liter M119 Engine, Produced: 1989 to 1999
---
Download: Mercedes Benz M119 Engine Repair Manual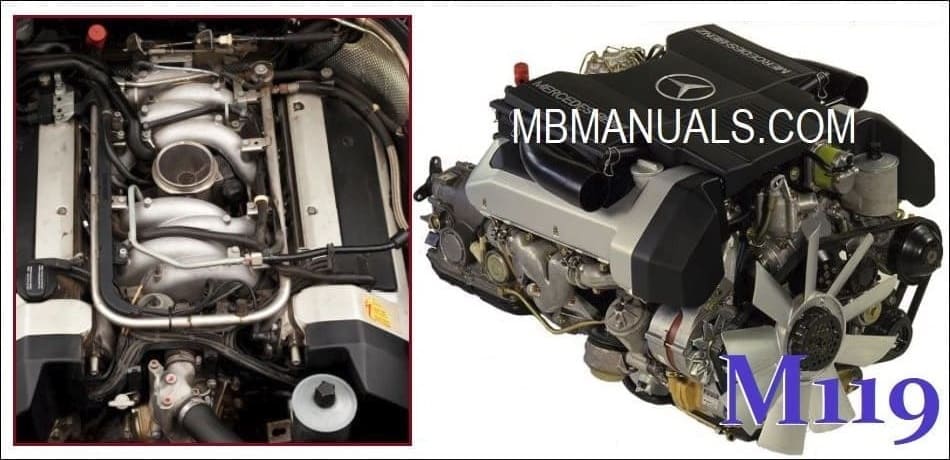 Mercedes Liter M119 Engine Manual
Download: 48.2mb, flash, .pdf
Applications: W124, W129, W140, C140

Delivery By Download Link: Sent to your PayPal email address: $19.95
---
Mercedes M119 Engine Vehicle Application Survey
The Mercedes-Benz M119 was a V8 automobile engine produced from 1989 through 1999. It was available in 4.2 L; 5.0 L; and 6.0 L displacements. It was replaced by the 3-valve M113 starting in 1997.
The M119 replace the M117 engine in 1989. Initially, the M119 engine had a Bosch LH-Jetronic ('Luftmasse-Hitzdraht') injection control with a hot wire air mass meter, two ignition coils and two distributors (one for each cylinder bank) and was controlled by an ignition control module. The M119 engine had an aluminum alloy block with Alusil-coated cylinder walls, an aluminum alloy cylinder head, forged connecting rods, iron-coated cast aluminum pistons, double overhead cam (chain-driven) design with 4 valves per cylinder and variable valve timing on the intake side, and hydraulic bucket tappets. While the M119 E 42 had a compression ratio of 11.0:1, the M119 E 50 and E 60 engines had a compression ratio of 10.0:1.

The M119 engine also featured two-stage intake camshaft phasing that could be adjusted hydro-mechanically by up to 20 degrees:
From 0-2000 rpm, timing was retarded for improved idle and cylinder scavenging;
From 2000-4700 rpm, timing was advanced for greater torque;
Beyond 4700 rpm, timing was retarded for improved volumetric efficiency.
Around 1995 (depending on model), the distributors were replaced by coil packs (i.e. electronic distributorless ignition) where each plug had its own coil wire and Bosch ME injection was introduced. For the M119 E50 engine, this change was signified by the change in engine code from 119.970 to 119.980. For the M119 E42 engine, the code changed from 119.971 to 119.981.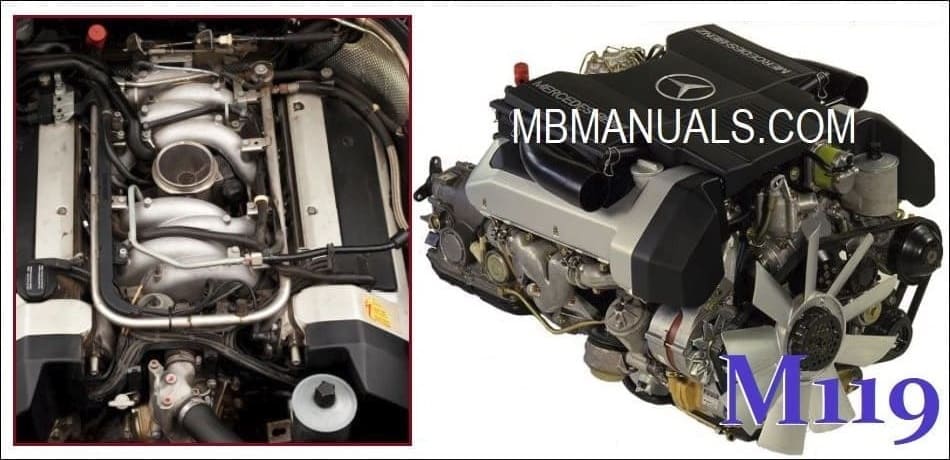 Application Survey of Mercedes Benz M119 Engines
Engine Codes
M 119 E 42
M 119 E 50
M 119 E 60
M 119 E 63
M119 4.2 Liter Motor
The 4.2 L (4,196 cc) version (M119.975) produced 205 kW (279 PS; 275 bhp) at 5700 rpm and 400 Nm (295 ft.lb) of torque at 3900 rpm. Japanese versions produced 285 PS (210 kW; 281 bhp).
Applications:
W124 400E/E420
W210 E420
W140 400SE/400SEL/S420
Mercedes-Benz 420SEC/ S420coupe/ Cl420
M119 5.0 Liter Motor
A twin-turbocharged M119 installed in a Mercedes-Benz C11 Group C race car.
The 5.0 L (4,973 cc) version produced 326 PS (240 kW; 322 bhp) at 5700 rpm and 480 Nm (354 ft.lb) of torque at 3900 rpm. Later engines had the full throttle enrichment removed and power was a little less, closer to 320 PS (235 kW; 316 bhp).
The E50 AMG M119.985 produced 354 PS (260 kW; 349 hp) @ 5,550 rpm and 481 Nm (355 lb.ft.) @ 3,200 rpm.
Applications:
W124 500E/E500
W140 500SEL/500SEC/S500
R129 500SL/SL500
W210 E50 AMG
The 5.0L M119 was also adapted for racing with the addition of two turbochargers. It won the 1989 24 Hours of Le Mans in the Sauber C9 and was further used in the Mercedes-Benz C11 before being replaced by the M291 3.5L Flat-12 in 1991.
M119 6.0 Liter Motor
The M119 found in AMG models produced around 381 PS (280 kW; 376 hp) to 415 PS (305 kW; 409 hp) and upwards of 580 Nm (428 ft.lb) of torque.
Applications:
W124 E60 AMG
R129 SL60 AMG
The 6.0 L M119 replaced the M120 V12 in the CLK-LM race car, which then won every race in the FIA GT series, which ultimately resulted in the GT1 class being canceled.
For 1994 model year, there also limited AMG models for Japan which built or sold between October 1993 to September 1999 in left-hand drive. Installed engine was M119.970 which has 6.0 L (5,956 cc) of displacement, 380 PS (279 kW; 375 hp), and 59.1 kgm (580 Nm; 427 ft.lb) of torque.
Applications:
W140 S500-6.0
C140 S500C-6.0