Mercedes 722.6 NAG1 Trans Manuals
Our Transmission Manuals open as .pdf files, or run in browser when purchasing multi manual collections. All manuals can be accessed on a Mac or PC computer. Multi manual collections work with Internet Explorer, Chrome, Firefox, Safari, and other browsers. Transmission Identification
This page includes Mercedes Benz Service & Repair Manual's for the following Transmission Models.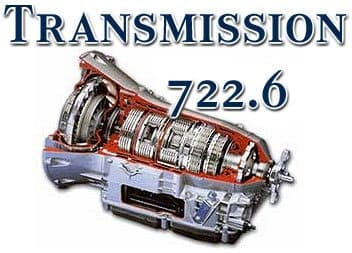 Mercedes Benz 722.6 NAG1 5G-Tronic Automatic Shift Transmission Service & Repair Manuals Collection
This is a Complete Comprehensive Mercedes Benz 5 Speed Automatic Transmission Service and Repair Manual Collection.
This collection is available on CD or by download depending on your preference.
Download it to your computer and right click on the zip file to decompress it to a folder. From there you simply double click on the start file to run the program.
This manual series runs in a browser and works with all operating systems.
---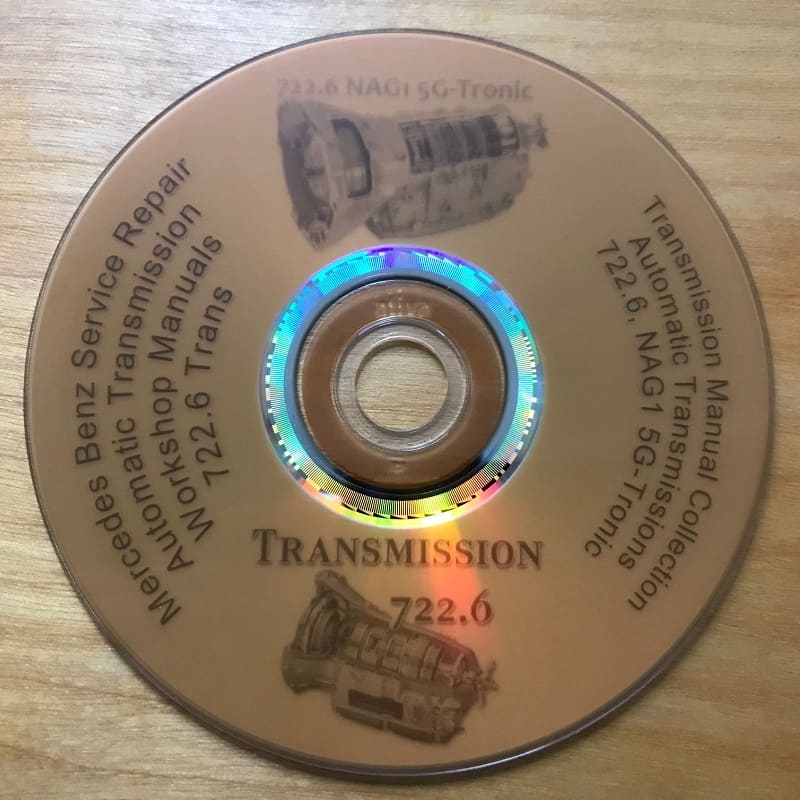 Mercedes 722.6 NAG1 5G-Tronic
Transmission Manual Collection
Automatic 5 Speed Transmissions
United States U.S. CD Orders Only


Just $27.95 + $2.05 U.S. Shipping Only
Mercedes Benz Transmission Service, Operation, and Repair Manuals on CD
---
Download Orders - U.S. and International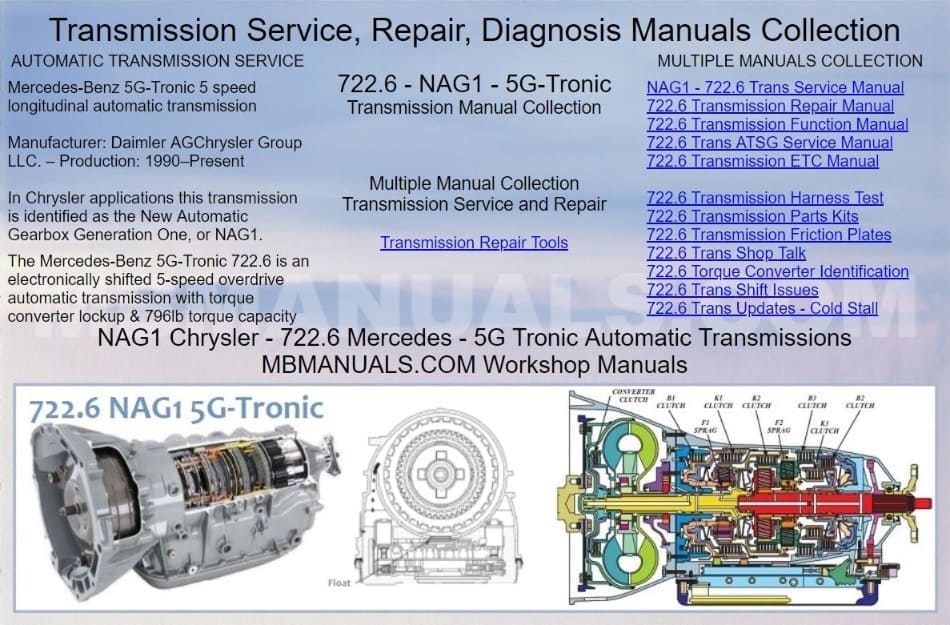 Mercedes Benz 722.6 NAG1 Automatic Transmission Manuals available by Download For PC and Mac Computers
DOWNLOAD ON SALE!
Download Link Emailed To Your Paypal Email Address: $19.95
---
Mercedes Benz 5G-Tronic 722.6 NAG1 Transmission
The Mercedes-Benz 5G-Tronic (also called 722.6) is an electronically shifted 5-speed overdrive automatic transmission with torque converter lockup (typically in gears 3,4,5) and 2-speed for reverse. It replaced the older 722.3 / 722.4 4-speed 4G-Tronic transmission and its 722.5 5-speed derivative.
It was replaced by the Mercedes Benz 7G-Tronic 722.9 transmission introduced in 2003. This turned out to be a very lengthy process stretching out over nearly a decade. Due to its high torque capacity (up to 1000 Nm) and lower cost, the 722.6 transmission was still retained for application with turbocharged V12 engines, four-cylinder applications and commercial vehicles. It is still being built for niche applications (e.g. Sprinter with gasoline / CNG M111 engine, Jeep Wrangler, etc.).
In Chrysler applications this transmission is identified as the New Automatic Gearbox Generation One, or NAG1.
722.6 Transmission Resources:

5G-Tronic Gear Ratios: Mercedes 722.6 Transmission Specs
5G-Tronic, 722.6, A96.10, A96.35, A96.50, AMG Speedshift R, M140, NAG-1, W5A330, W5A380, W5A580, W5J400
Mercedes-Benz 722.6 NAG1 5G-Tronic Transmissions

Gear
1
2
3
4
5
R1
R2
Engines
5G-Tronic (W5A330/Small NAG)
3.951
2.423
1.486
1.000
0.833
-3.147
-1.93
4 and V6
5G-Tronic (W5J400/Middle NAG)
3.59
2.19
1.41
1.000
0.83
-3.16
-1.93
SUV's
5G-Tronic (W5A580/Large NAG)
3.595
2.186
1.405
1.000
0.831
-3.167
-1.926
V8's and V12'
Mercedes Benz 722.6 NAG1 Transmission Service Workshop Manuals Collection. These transmissions can be found in the following vehicles:
1990-Present 722.6 NAG1 Auto Trans Application Survey:
Mercedes Benz Vehicles
Mercedes S-Class
1991–1995 Mercedes-Benz W140 (option on 300SE, S280 and S320)
1996–1998 Mercedes-Benz W140 (all models)
1999–2005 Mercedes-Benz W220
2006–2013 Mercedes-Benz W221 (V12 Models only)
Mercedes CL
1996–1998 Mercedes-Benz C140
2000–2006 Mercedes-Benz C215
2007–2014 Mercedes-Benz C216 (V12 Models only)
Mercedes E-Class
1996–2002 Mercedes-Benz W210 (all models except some early 1996 cars)
2002–2005 Mercedes-Benz W211 (all models except 2004-2005 E500)
2006–2009 Mercedes-Benz W211 (4-cyl and 4-matic only)
2009–2011 Mercedes-Benz W212 (4-cyl models only)
Mercedes C-Class
1997–2000 Mercedes-Benz W202
2001–2005 Mercedes-Benz W203 (all models)
2006–2007 Mercedes-Benz W203 (4-cyl and 4-matic models only)
2007–2011 Mercedes-Benz W204 (4-cyl models only)
Mercedes CLK
1998–2002 Mercedes-Benz W208
2003–2005 Mercedes-Benz W209 (all models except 2005 CLK 500)
2006–2009 Mercedes-Benz W209 (4-cyl and CLK 55AMG only)
Mercedes ML
1998-2005 Mercedes-Benz W163
Mercedes G-wagon
1996–2006 Mercedes-Benz W463 (all models)
2007–2012 Mercedes-Benz W463 (G55 AMG only)
Mercedes SLK
1997-2003 Mercedes-Benz R170
2004-2010 Mercedes-Benz R171 (4-cyl models only)
Mercedes SL
1991-1996 Mercedes-Benz R129 (6-cyl models only)
1997-2001 Mercedes-Benz R129 (all models)
2001–2004 Mercedes-Benz R230(all models)
2005–2006 Mercedes-Benz R230 (all models except SL500)
2007–2011 Mercedes-Benz R230 (SL 55AMG and V12 models only)
Mercedes SLR
2005-2009 Mercedes-Benz W199
Non Mercedes-Benz Vehicles
Maybach
2002–2013 Maybach 57 and 62
Jeep
2002-2012 Jeep Grand Cherokee[7] (02-04 WG Diesel W5J400, 05-10 WK V6, WH V6 3.0 Diesel export only Steyr W5A580)
2006-2010 Jeep Commander XK (3.7 gas) XH (3.0 diesel - export)
2012-2018 Jeep Wrangler (JK)[8]
Dodge
2005-2014 Chrysler 300 (AWD, 300C, SRT8 only)
2005-2008 Dodge Magnum (AWD, RT, SRT8 only)
2006-2014 Dodge Charger (AWD, RT, SRT8 only) (2006-2007 3.5L V6 HO)
2007-2011 Dodge Nitro (4.0L Models only)
2009-2014 Dodge Challenger
2011-2012 Dodge Durango (V6 Models only)
2003-2006 Dodge Sprinter Vans ( N. America)
Chrysler
2004-2008 Chrysler Crossfire, all models[9]
2004-2010 Chrysler 300 C CRD (with OM 642 V6 Diesel engine)[10]
Jaguar
1998-2003 Jaguar X308 (Supercharged models only)
1998-2002 Jaguar XK (X100) (Supercharged models only)
Ssangyong
1998–2014 Ssangyong Chairman H
2004–Present Ssangyong Rexton
2005–Present Ssangyong Rodius
2006–Present Ssangyong Kyron
2014-Present Ssangyong Actyon sports
Porsche
2002-2005 Porsche 911 (996 series)
Freightliner
2001-2006 Freightliner Sprinter Vans (USA)
Mercedes Benz 722.6 NAG1 Transmission Service and Repair Manual Collection 1990-Present.
Transmission Manuals Included In This Collection:
NAG1 - 722.6 Trans Service Manual
722.6 Transmission Repair Manual
722.6 Introduction Service Manual
722.6 Transmission Function Manual
722.6 Trans ATSG Service Manual
722.6 Transmission ETC Manual
722.6 Transmission Harness Test
722.6 Transmission Parts Kits
722.6 Transmission Friction Plates
722.6 Trans Shop Talk
722.6 Torque Converter Identification
722.6 Trans Shift Issues
722.6 Trans Updates - Cold Stall
This Mercedes Benz Transmission Collection is the Best you will find for the 722.6 NAG1 Transmissions.