Mercedes Benz Transmission Manuals
Access Your Transmission Model Through The Menu's Below
How to identify the Mercedes Benz transmission model you have from a stamped code on transmission casing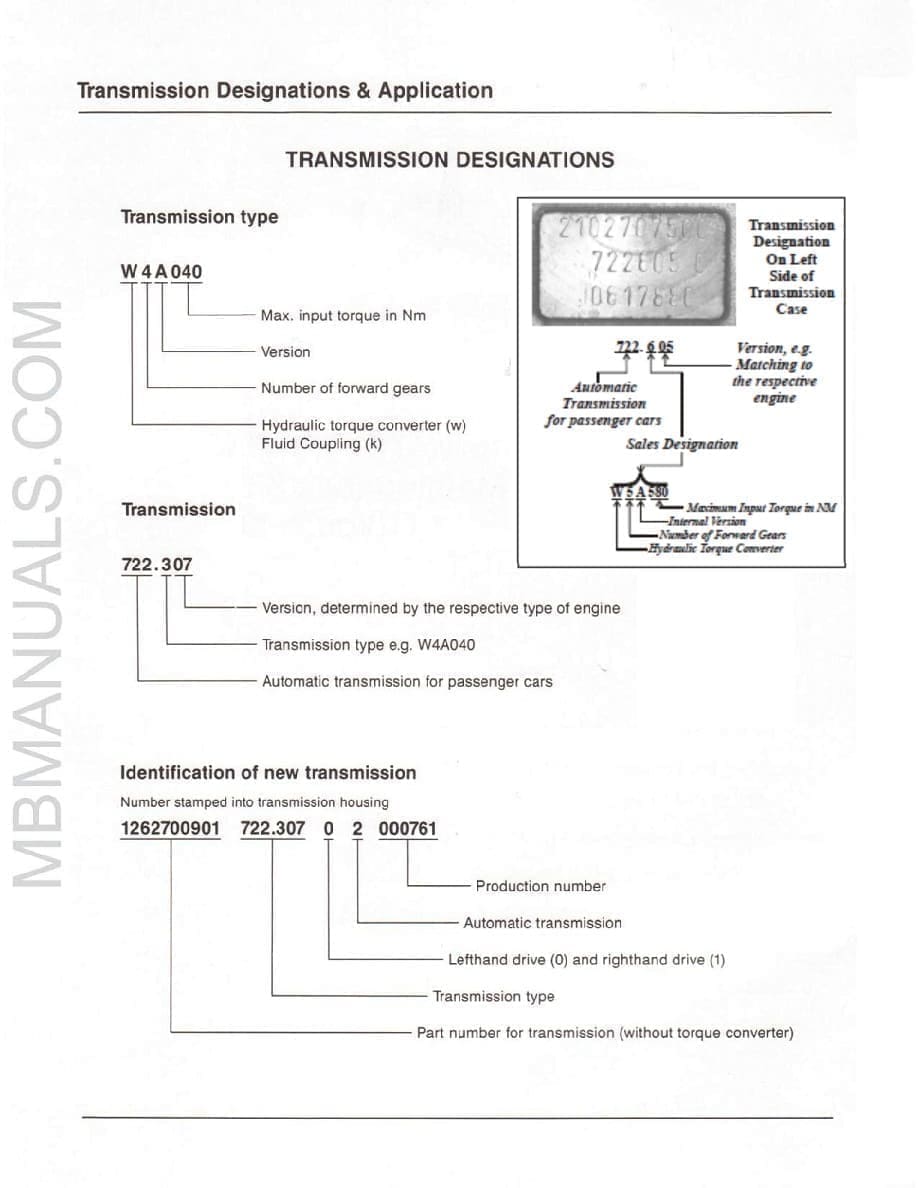 Identification of a Mercedes Benz Transmission, or (Gearbox) as they are also referred to, can be accomplished by following these guidelines.
Locate a code that is stamped on the exterior of the transmission casing.
This code will help to decipher several factors including: Part Number, Version, Number of Forward Gears, Automatic or Standard Shift, Input Torque, Production Number, etc.
By retrieving this code, you will be able to locate the corresponding transmission manuals in our database that can help you perform service and repairs as needed on your gearbox. Mercedes Vehicle to Transmission Matching Index
---
Mercedes Benz Multi Speed Automatic Shift Transmission Models Listed By Date Of Introduction
Mercedes-Benz uses the number "722" to identify most automatic transmissions
Mercedes Benz Transmission Model Unit Identifier
Auto Trans Supplement and Resources
Mercedes Benz Automatikgetriebe GA 230 SL-E, GA 280 SE, GA 190 Dc-E, GA 220b / Sb / SEb / 4 Gang Automatikgetriebe / automatic transmission / transmission automatique
---
Mercedes Benz Mechanical Shift Standard Transmission Models Listed By Date Of Introduction
Mercedes Benz Transmission Model Unit Identifier
Standard Trans Supplements and Resources
---
Mercedes Automatic Transmission Versions Chart
Mercedes Automatic Transmissions

Unit Codes
Years USA
Production
K4A 025 (4 speed) 16 bolt pan 4/6 cyl
GA 230 SL-E
1959-1971
K4A 025 (4 speed) 16 bolt pan 4/6 cyl
GA 280 SE
GA 190 C
1961-1968
GA 190 DC
1961-1968
GA 190 Dc-E
GA 220 B
1959-1965
GA 220 SB
1959-1965
GA 220 SEB
1951-1965
GA 230
1965-1966
K4B 050 (4 speed) 16 bolt pan V8
1964-1981
K4C 025 (4 speed) 4 bolt pan 4/5/6cyl
722.2
1970-1975
K4A 040 (4 speed) 4 bolt pan V8
722.2
1971-1972
722.0xx From 1973-1980 (3 Speed)
722.000 (3 speed) 4 bolt pan V8
W3A040
1973-1980
722.001 (3 speed)
W3B050
722.002 (3 speed)
W3A040
722.003 (3 speed) reinforced unit
W3B050
1977-1979
722.004 (3 Speed) 4 bolt pan V8
W3A040
722.005 (3 speed)
W3B050
722.006 (3 speed)
W3B050
722.007 (3 speed)
W3B050
722.1xx From 1974-1983 (4 Speed)
722.100 (4 speed) 4 bolt pan
W4B025
1975-
1973-
722.101
W4B025
1974-1983
722.102
W4B025
722.103
W4B025
722.104
W4B025
722.105
W4B025
722.106
W4B025
722.107
W4B025
722.108
W4B025
722.109
W4B025
722.110
W4B025
722.117
W4B025
722.118
W4B025
722.2xx From 1961-19xx (4 Speed)
722.200 (4 speed) 4 bolt pan Reinforced
K4C025
722.201 (4 speed) 4 bolt pan
K4A040
722.202 (4 speed) 4 bolt pan
K4C025
722.203 (4 speed) 4 bolt pan
K4C025
722.204 (4 speed) 4 bolt pan
K4C025
722.205 (4 speed) 4 bolt pan
K4C025
722.206 (4 speed) 4 bolt pan
K4C025
722.3xx From 1981-1996 (4 Speed)
722.300
W4A040
722.301
W4A040
722.302
W4A040
722.303 (4 speed) 6 bolt pan
W4A028?
1981-1996
722.304
W4A040
722.305
W4A040
722.306
W4A040
722.307
W4A040
722.308
W4A040
722.309
W4A040
722.310
W4A040
722.311
W4A040
722.312
W4A040
722.313
W4A040
722.315 (4 speed) 6 bolt pan
W4A040
1995-1996
722.317 (4 speed) 6 bolt pan
W4A040
1981-1995
722.319
W4A040
722.320
W4A040
722.321 (4 speed) 6 bolt pan
W4A040
1992-1995
722.322
W4A040
722.323
W4A040
722.324
W4A040
722.325
W4A040
722.328
W4A040
722.329
722.330
W4A028
722.332
W4A028
722.337
W4A028
722.339
W4A028
722.341 VG 30 C
W4A028
722.342 VG 30 C
W4A028
722.343 VG 30 C
W4A028
722.344 VG 30 C
W4A028
722.345 VG 30 C
W4A028
722.346 VG 30 C
W4A028
722.347 VG 30 C
W4A028
722.348 VG 30 C
W4A028
722.350
W4A040
722.351
W4A040
722.352
W4A040
722.353
W4A040
722.354
W4A040
722.355
W4A040
722.356
W4A040
722.357
W4A040
722.358
W4A040
722.359
W4A040
722.363
W4A040
722.364
W4A040
722.365
W4A040
722.366
W4A040
722.367
W4A040
722.368
W4A040
722.369
W4A040
722.370
W4A040
722.371
W4A040
722.374
W4A028
722.391
722.4xx From 1984-1996 (4 Speed)
722.400 (4 speed)
W4A020
722.401 (4 speed)
W4A020
722.402 (4 speed)
W4A020
722.403 (4 speed)
W4A020
722.404 (4 speed)
W4A020
722.405 (4 speed)
W4A020
722.406 (4 speed)
W4A020
722.407 (4 speed)
W4A020
722.408 (4 speed)
W4A020
722.409 (4 speed)
W4A020
722.410 (4 speed)
W4A020
722.411 (4 speed)
W4A020
722.412 (4 speed)
W4A020
722.413 (4 speed)
W4A020
722.414 (4 speed)
W4A020
722.415 (4 speed)
W4A020
722.4?? (4 speed)
W4A020
722.417 (4 speed)
W4A020
722.418 (4 speed)
W4A020
722.419 (4 speed)
W4A020
722.420 (4 speed)
W4A020
722.421 (4 speed)
W4A020
722.422 (4 speed)
W4A020
722.423 (4 speed)
W4A020
722.424 (4 speed)
W4A020
722.425 (4 speed)
W4A020
722.426 (4 speed)
W4A020
722.427 (4 speed)
W4A020
722.428 (4 speed)
W4A020
722.429 (4 speed)
W4A020
722.431 (4 speed)
W4A020
722.433 (4 speed)
W4A020
722.434 (4 speed)
W4A020
722.435 (4 speed)
W4A020
722.436 (4 speed)
W4A020
722.437 (4 speed)
W4A020
722.438 (4 speed)
W4A020
722.440 (4 speed)
W4A020
722.441 (4 speed)
W4A020
722.442 (4 speed)
W4A020
722.443 (4 speed)
W4A020
722.5xx From 1990-1997 (5 Speed)
722.500 (5 speed) 6 bolt pan
W5A030
1990-1996
722.502 (5 speed) 6 bolt pan
W5A030
722.507 (5 speed) 6 bolt pan
W5A030
722.508 (5 speed) 6 bolt pan
W5A030
722.6xx From 1997-2014 (5 Speed)
722.6 (5 speed electronic)
W5A580
1996-2006
2002-2014
722.620 (5 speed)
W5A580
722.621 (5 speed)
W5A580
722.622 (5 speed)
W5A580
722.623 (5 speed)
W5A580
722.624 (5 speed)
W5A580
722.625 (5 speed)
W5A580
722.626 (5 speed)
W5A580
722.627 (5 speed)
W5A580
722.628 (5 speed)
W5A580
722.629
W5A580
722.631 (5 speed)
W5A580
722.632
W5A580
722.633
W5A580
722.634
W5A580
722.635
W5A580
722.636
W5A580
722.639
W5A580
722.640
W5A580
722.641
W5A580
722.642
W5A580
722.643
W5A580
722.644
W5A580
722.645
W5A580
722.646
W5A580
722.648
W5A900
722.649
W5A900
722.671
W5A580
722.672
W5A580
722.689
W5A580
722.7xx From 1997-2006 (5 Speed)
722.700 (5 speed)
W5A180
722.701 (5 speed)
W5A180
722.702 (5 speed)
W5A180
733.703 (5 speed)
W5A180
722.8xx From 2005-20xx (7 Speed)
722.800
WFC280 CVT
2005-
722.801
WFC280 CVT
2005-
722.802
WFC280 CVT
722.9xx From 2004-2015 (7 Speed) 7G Tronic
722.900 (7 speed)
2004-
722.901 (7 speed)
W7B700
20xx-
722.902 (7 speed)
W7C700
2004-2009
722.903 (7 speed)
W7C700
2007-
722.904 (7 speed)
W7C700
2006-
722.9 (7 speed) 4cyl, V6
2015-
725.0xx From 2013-20xx (9 Speed)
725.001 (9 speed) GA
W9A700
2013-
725.003 (9 speed)
HW9A500
725.007 (9 speed)
HW9B500
725.012 (9 speed)
HW9A700
725.013 (9 speed)
HW9A700
725.017 (9 speed)
HW9B700
725.023 (9 speed)
HW9S500
725.027 (9 speed)
HW9T500
725.033 (9 speed)
HW9S700
725.037 (9 speed)
HW9T700
725.043 (9 speed)
HW9X700
725.047 (9 speed)
HW9Y700
725.053 (9 speed)
HW9X500
725.057 (9 speed)
HW9Y500
725.061 (9 speed)
W9A900
725.062 (9 speed)
K9A900
725.065 (9 speed)
W9B900
725.066 (9 speed)
K9B900
725.081 (9 speed)
W9S900
725.085 (9 speed)
W9T900
725.091 (9 speed)
W9X900
725.092 (9 speed)
K9X900
725.095 (9 speed)
W9Y900
725.096 (9 speed)
K9Y900