Mercedes Benz Transmission Manuals
Access Your Transmission Model Through The Menu's Below
How to identify the Mercedes Benz transmission model you have from a stamped code on transmission casing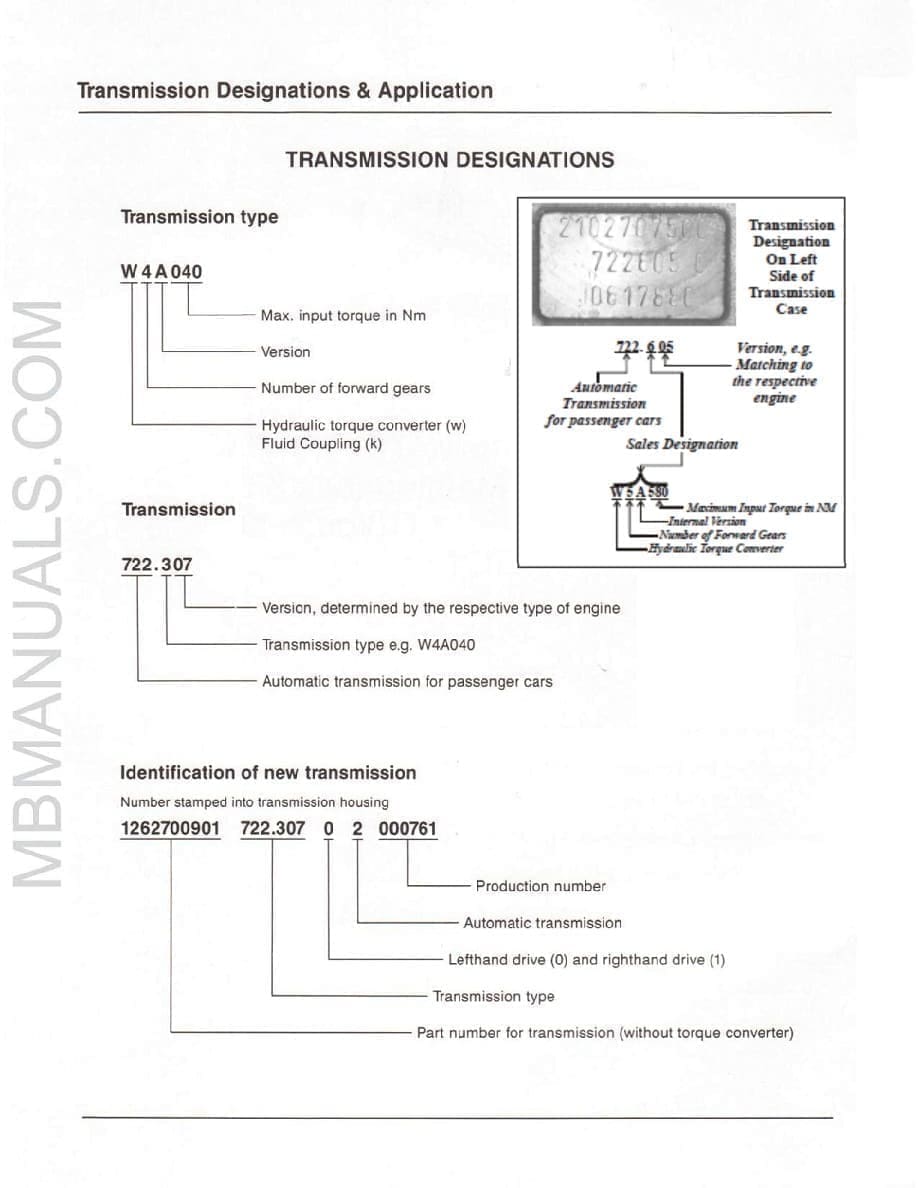 Identification of a Mercedes Benz Transmission, or (Gearbox) as they are also referred to, can be accomplished by following these guidelines.
Locate a code that is stamped on the exterior of the transmission casing.
This code will help to decipher several factors including: Part Number, Version, Number of Forward Gears, Automatic or Standard Shift, Input Torque, Production Number, etc.
By retrieving this code, you will be able to locate the corresponding transmission manuals in our database that can help you perform service and repairs as needed on your gearbox.
---
Mercedes Benz Multi Speed Automatic Shift Transmission Models Listed By Date Of Introduction
Mercedes-Benz uses the number "722" to identify automatic transmissions
Automatic Mercedes Transmissions for sale
Automatic Transmission 722.004 M117 450SL 450SLC 450SE 450SEL
Mercedes Automatic Transmission 722.107 for W115 220D Diesel
Mercedes Automatic Transmission 722.108 for W115 240D Diesel
Mercedes Automatic Transmission 722.109 for W115 300D Diesel
Automatic Transmission 722.107 for W115 220D Diesel
Automatic Transmission 722.108 for W115 240D Diesel
Automatic Transmission 722.109 for W115 300D Diesel
Used and rebuilt Mercedes Auto Transmissions
Automatic Transmission 722.416 for W123 W126 Turbo Diesel
Automatic Transmission 722.321 for W126 300SDL
Automatic Transmission 722.317 for W124 Diesel
Automatic Transmission 722.315 for W123 Turbo-Diesel
Automatic Transmission 722.303 for W126 300SD
Automatic Transmission 722.118 for W116 W123 Diesel
Automatic Transmission 722.118 for W123 NA Diesel
Automatic Transmission 722.117 for W123 240D Diesel
Automatic Transmission 722.109 for W115 300D Diesel
Automatic Transmission 722.108 for W115 240D Diesel
Automatic Transmission 722.107 for W115 220D Diesel
---
Mercedes Benz Standard Mechanical Manual Shift Transmission Models Listed By Date Of Introduction
Manual Transmission Conversion Kit for W123 OM616/OM617 Diesels
Mercedes Standard Manual Sift Transmissions for sale
Manual Transmission 716.210 for OM616 & OM617 NA Diesel W115 W123