MB 105 – W180
Ponton / Roundy Nicknamed Series Mercedes Vehicles
The Mercedes Benz Ponton Roundy term comes from several series of Mercedes Benz vehicles that carried a similar body style through their sedan models. These included the following:
MB W105 | W120 | W121 | W128 | W180 Series Models
MB W105 Model 219 Ponton Sedan Saloon's
MB W120 Model 180 Ponton Sedan Saloon's
W120 Models 180, 180a, 180b, 180c, 180D, 180Db, 180Dc Sedan's
MB W121 Ponton Sedan's, Plus Coupe and Roadster Models
W121 190, 190b, 190D, 190Db Sedan's
MB W127 Roadster Prototype — Big Brother to the 190SL
220SL – M180 2.2 Liter 6-Cylinder Motor
MB W128 Ponton Senan's, Coupe's, and Cabriolet's
W128 220SE Sedan's Coupe's Cabriolet's
MB W180 Ponton Sedan's, Coupe's, and Cabriolet's
The Mercedes Benz Ponton Roundy Nickname
The nickname Ponton comes from the German word for "pontoon" and refers to the defined style of pontoon fenders — and a postwar styling trend that was subsequently identified as Ponton styling. It started with Daimler-Benz's first totally new Mercedes-Benz series of passenger vehicles produced after World War II. Beginning in July 1953, these cars utilized the bulk of the Mercedes Benz production line for several years before being phased out between 1959 and 1962.
Work began in earnest on the Ponton body cars in 1951, with a design focused on passenger comfort and safety. There were essentially four types of Ponton cars. Note the "D" designates a diesel engine, and the suffix "b" and/or "c" are body variants introduced after the middle of 1959.
Four-cylinder sedans
Four-cylinder roadsters / coupés
Six-Cylinder roadster
Six-cylinder sedans
Six-cylinder coupés
Six-cylinder cabriolets
The W127 Prototype Built on the W121 Roadster Chassis
The W127 was essentially a big brother being built on the W121 190SL Roadster Chassis -and pepped up with the 2.2-liter six-cylinder M180 engine from the 220 ponton sedan. To spice it up even more, fuel injection and a touring specific camshaft cranked up the output to 117 hp. The size of the 220 engine dictated body modifications such as a recessed bulkhead and increasing the strength of the transmission tunnel to accommodate the six-cylinder engine and a four-speed gearbox into the W121 190SL chassis and body shell.
Two such cars were produced and they were given the internal code W127
As they were the fourth and fifth trial cars with a larger engine, they were named 190SL /4 and 190SL /5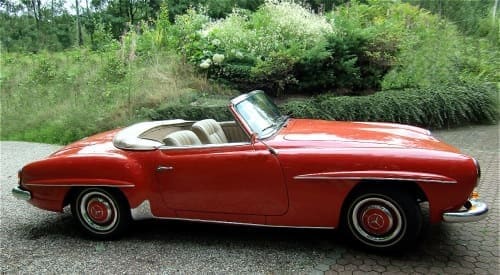 As fate would have it, the W127 220SL production plans were terminated in favor of a completely new design. This new car, known internally as W113, was called 220SL during development and introduced in 1963 as the W113 230SL.
Mercedes Ponton Buyers Guides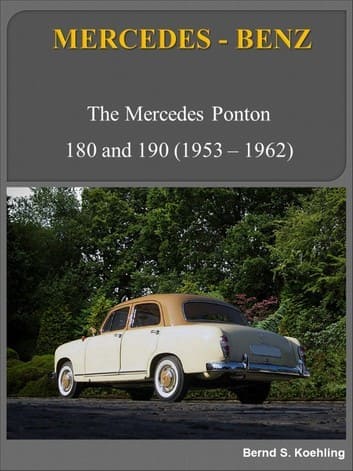 Mercedes-Benz 180, 190 Ponton with buyer's guide and chassis number/data card explanation
From the 180 to the 190D
by Bernd S. Koehling
series The 1950s Mercedes #6
Synopsis
Do you own a Mercedes-Benz 180 or 190 Ponton or plan to buy one? Updated in May 2017, this 210-page guide is then for you. It walks you through the car's history, explains in detail chassis number and data card and comes with a comprehensive buyer's guide.
It is the only book that concentrates solely on the four-cylinder ponton models and it comes with superb recent non-Daimler AG color photography, including pictures of the suspension.
Initial cost should not be your biggest concern. Remember, there is nothing more expensive than a cheap Mercedes. Knowledge becomes your best defense against getting "hosed" when it comes to buying and maintaining an older Mercedes Benz.