MB 110 – W112
Heckflosse (Fintail) Series W110, W111, W112
The Fintail Heckflosse body was first introduced in 1959, with an expanded line hitting the market and replacing the aging Ponton models in 1961. Mercedes offered both four-cylinder and six-cylinder models. The 190 four-cylinder W110 vehicles can be easily identified by their round headlamps, as opposed to the large vertical headlamp configurations used on the 220 six-cylinder W111 and 300 big block W112 vehicles.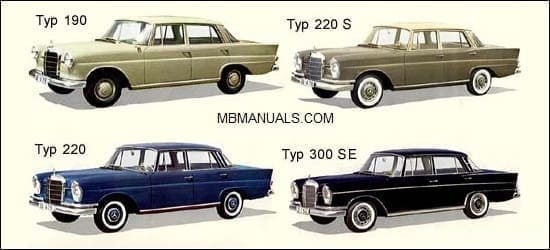 The Mercedes-Benz W111 was a chassis code given to a range of Mercedes' vehicles produced between 1959 and 1971, including four-door sedans (1959-1968) and two-door coupés and cabriolets (1961 to 1971).
The Mercedes W110, W111, W112 Shared Chassis & Body
First introduced as inline 6-cylinder cars with 2.2-liter 220 engines, the W111 spawned two lines of variants to fill the market void for economy, and luxury…
Entry-level vehicles sharing the Mercedes W111 chassis and body, but powered by the 190 four-cylinder engines were designated Mercedes W110 series.
The luxury version built on the W111 chassis and body that included a fuel-injected 3-liter 300 M186 six-cylinder engine, along with jazzed up chrome and extra's were designated the Mercedes W112 series.
Shared Chassis and Body Model Variants
Mercedes Heckflosse Fintail Chassis Safety Features
The Mercedes Fintail chassis and body models, sometimes referred to as the Ponton B, were the first Mercedes series vehicles manufactured that had a built-in safety zone. These W110, W111, and W112 shared chassis and body vehicles offered many interior safety features including:
Switches were recessed into the dashboard
Handles were constructed to give way in case of an accident
The instrument panel was a new easier to read design
The vertical speedometer showed the speed in different colors, yellow for 0-50 km/h, yellow and red stripes for 50-60 and red above 60 km/h
Mercedes Benz W110 W111 W112 Buyers Guides
Mercedes-Benz Heckflosse - "Fintail" sedans–a nickname given for the vestigial fins perched atop the cars' rear fenders–were the new post war chapter in the company's spectacular resurrection. Often overlooked by today's collectors, the Fintails nevertheless set the stage for Mercedes-Benz's emergence as the premier imported luxury-sedan manufacturer of the 1970s.