MB 198 – W198 Service Repair Manuals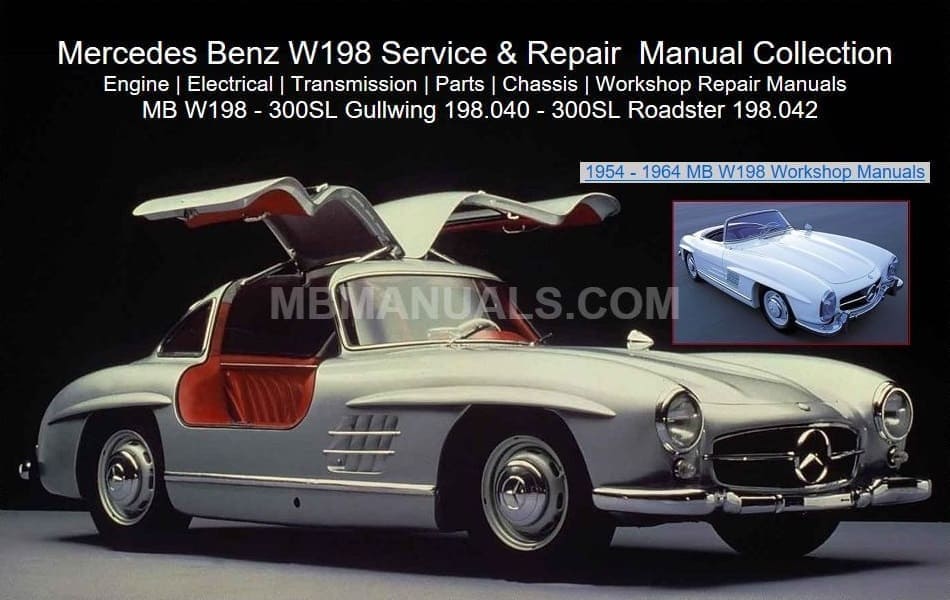 The Mercedes-Benz 300 SL (W198) was the fastest production car of its day and the first model of the Mercedes SL-Class. It was introduced in 1954 as a 300 SL – 300 for its 3.0 liter engine displacement and SL for Sport Leicht (Sport Light), This two-seat coupé with distinctive gull-wing doors, was also offered later as an open roadster. It was introduced to the public at the 1954 New York Auto Show rather than the Frankfurt or Geneva. Jump to Manuals
Immediately successful and today iconic, the 300 SL stood alone with its distinctive doors, first-ever production fuel injection, and world's fastest top speed. The original gull-wing coupé was available to the public from March 1955 to 1957, and the roadster from 1957 to 1963.
Mercedes Benz W198 300SL Workshop Repair Manuals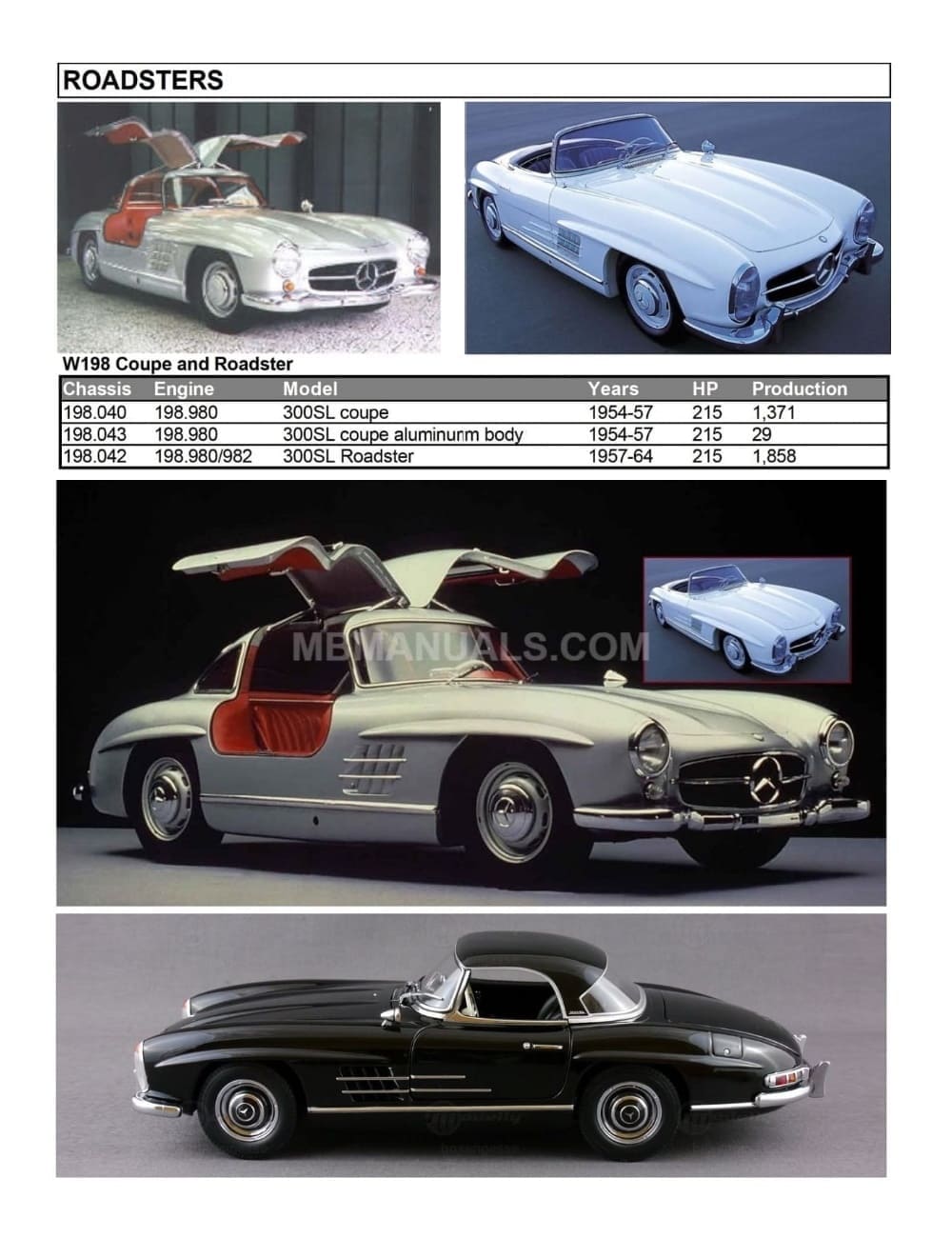 The 300 SL's main body was steel, with aluminum hood, doors and trunk lid. It could also be ordered at a much higher cost with an all-aluminium outer skin saving 80 kg (180 lb); just 29 were made.
More than 80% of the Gullwings total production of approximately 1400 units were sold in the US.
The engine output of 215 hp (158 kW) provided a top speed of 250 km/h, depending on final drive ratio. As with the legendary racing sports car from the 1952 season, that made the 300 SL the fastest production car of its day. The vehicle featured consistent lightweight design throughout and a space-frame that supported the engine, transmission, and axles leaving no room for conventional doors.
The factory type designations for the Gull Wing were:
198.040XXYYYYY for the 300 SL Gull Wing with steel body shell
198.043XXYYYYY for the 300 SL Gull Wing with aluminum body shell
198.042XXYYYYY for the 300 SL Roadster Convertible body shell
198.980XXYYYYY and 198.982XXYYYYY for the 300 SL engine
The "XX" digits represent the year of manufacture in reversed order. The "YYYYY" digits represent sequential serial numbers assigned during the model year. Rarely, if ever, did the engine and chassis serial numbers coincide from the factory.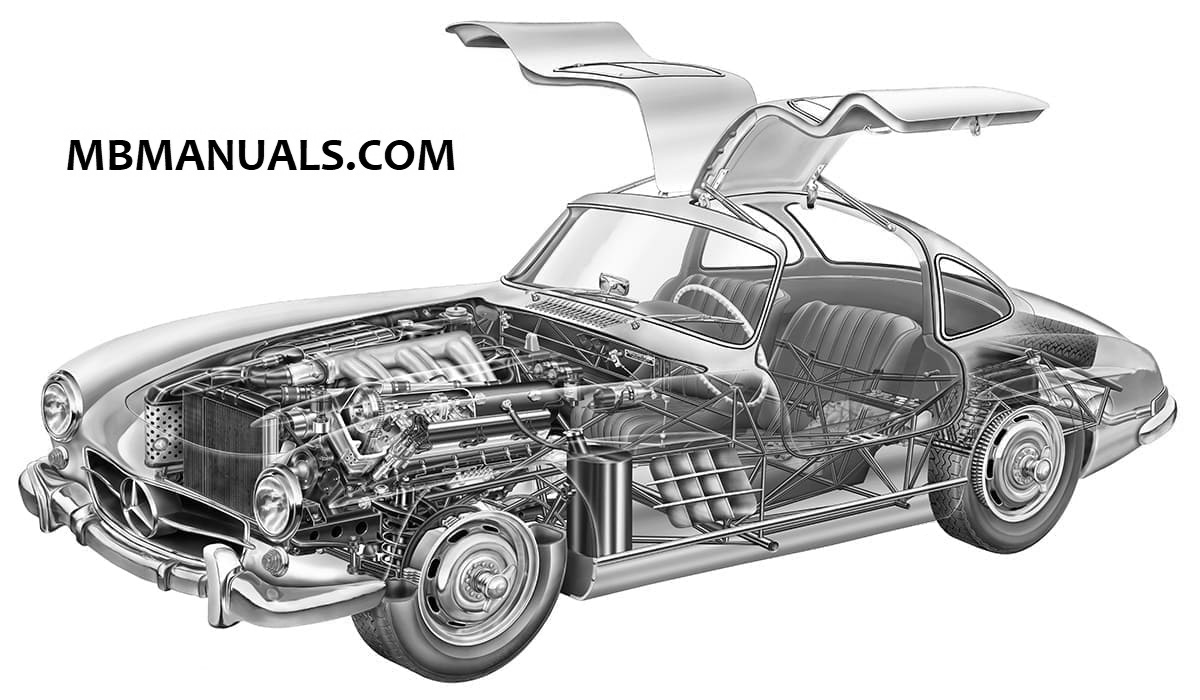 W198 Gullwing and Roadster Mercedes Benz vehicles were manufactured in
(1952*, 1953*) 1954, 1955, 1956, 1957, 1958, 1959, 1960, 1961, 1962, 1963, 1964
Mercedes Benz W198 Service and Repair Manuals
Jump To: Select Your MB W100 Manual > Manual Collection | Owners Manual | Engine | Chassis and Body | Climate Control | Electrical | Maintenance | Transmission | W198 300SL Supplements and Articles |
CD / DVD & Download Orders Work With Windows and Mac Computers. These Manuals are Compatible with many Browsers Including: Chrome | Explorer | Safari etc.
---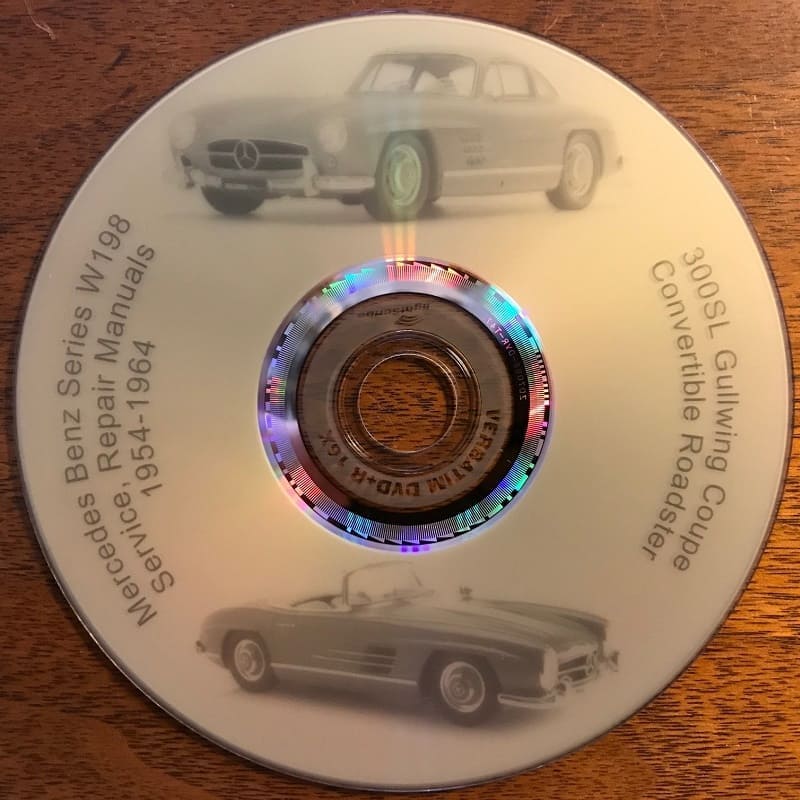 W198 English Language Service Manual Collection
Service and Repair Manual's on DVD
PayPal $46.95 + $3.05 Shipping – International

see download option below
---
Below: Order Worldwide Download Orders: U.S. and International
You will receive an email with download link after your purchase is complete
The download files may be large so the faster the connection you have the better!
If any problems arise with your download please Contact Us
---
Download: Mercedes Benz 198 Manual Collection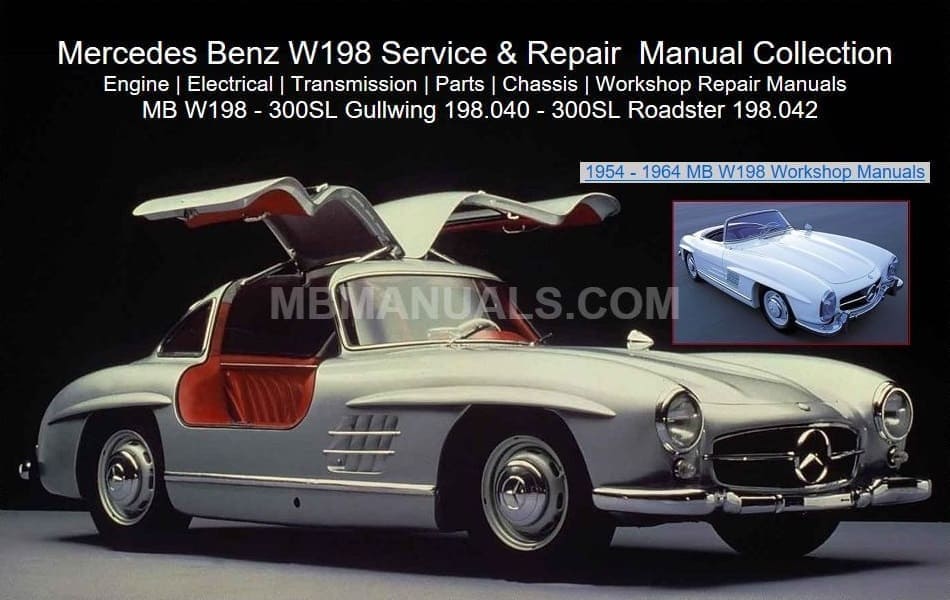 Manual Covers 1954-1964 Models, – 74.4mb
W198 300SL Gullwing and 300SL Roadster
300SL Workshop Manuals; Engine, Transmission, Parts Catalog, Electrical, Chassis, Body, Heat/AC

Delivery By Download Link: Sent to your PayPal email address: $34.95
---
Download: Mercedes Benz W198 Owners Manuals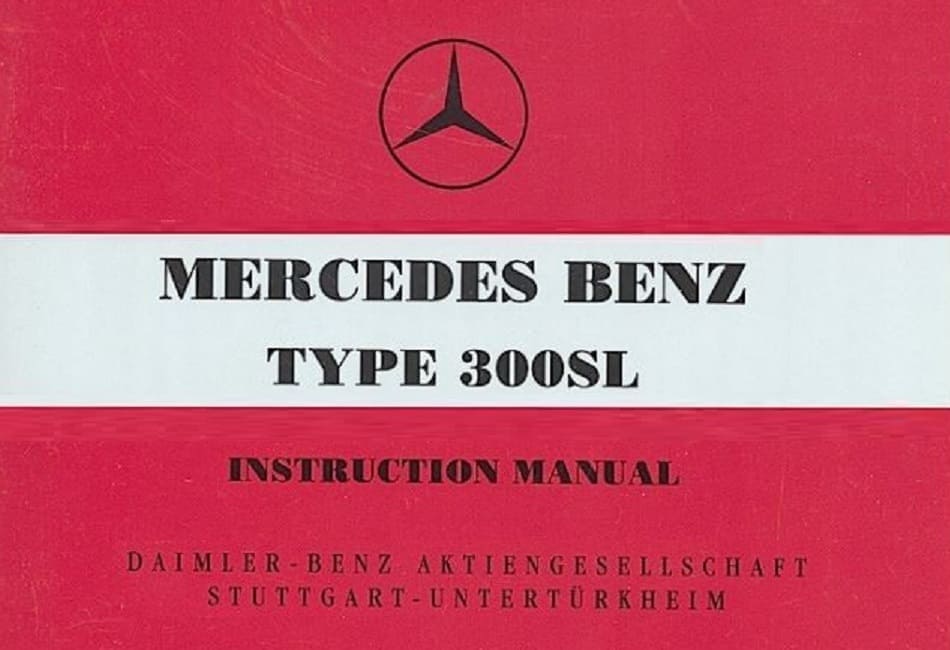 MB W198 300SL Gullwing O.M. 14.3mb, 62 pages, .pdf
MB W198 300SL Roadster O.M. 15.4mb, 69 pages, .pdf
^ Select Model Above ^

Delivery By Download Link: Sent to your PayPal email address: $9.95
---
see all petrol gasoline & diesel engine manuals
Download: Mercedes Benz W198 Engine Service Repair Manual
Download: Mercedes Benz M198 Engine Service Manual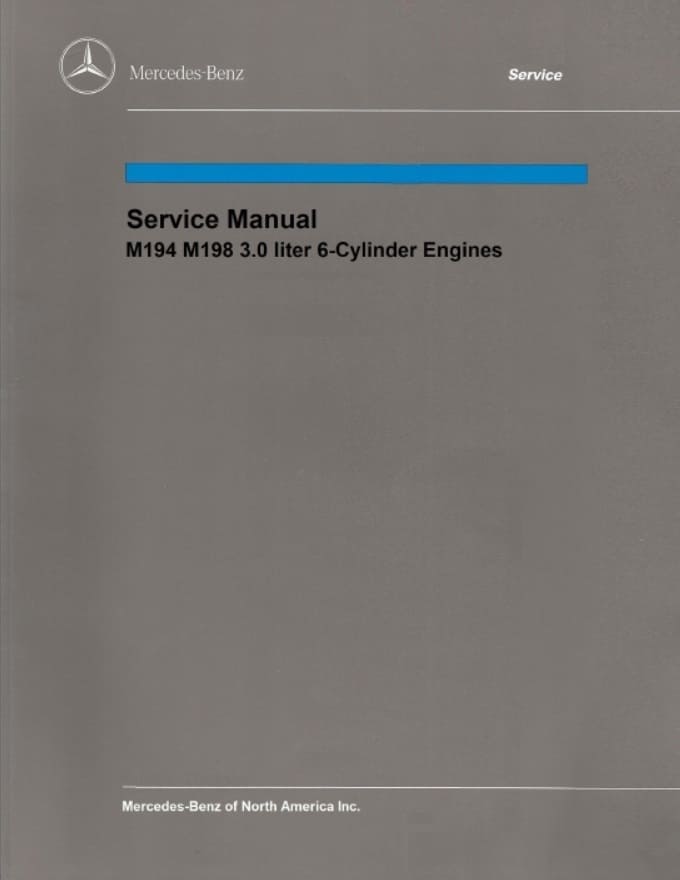 Mercedes M198 Engine Repair Manual
Download: 25.9mb, 144 pages, .pdf
Variations: M194 M198 198.980 198.982
Application: W194 W198

Delivery By Download Link:
Sent to your PayPal email address: $19.95
---
see all automatic & standard transmission manuals
Download: Automatic & Standard Transmission Manuals
---
Download: Mercedes Benz W198 Electrical Diagram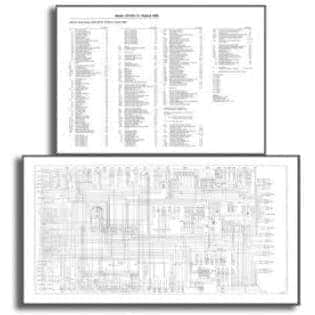 MB W198 300SL Gullwing E.D. 14.3mb, .pdf
MB W198 300SL Roadster E.D. 15.4mb, .pdf
^ Select Model Above ^

Delivery By Download Link: Sent to your PayPal email address: $9.95
---
FREE – MB W198 300SL Supplements and Articles