MB 121 – W121 Service Repair Manuals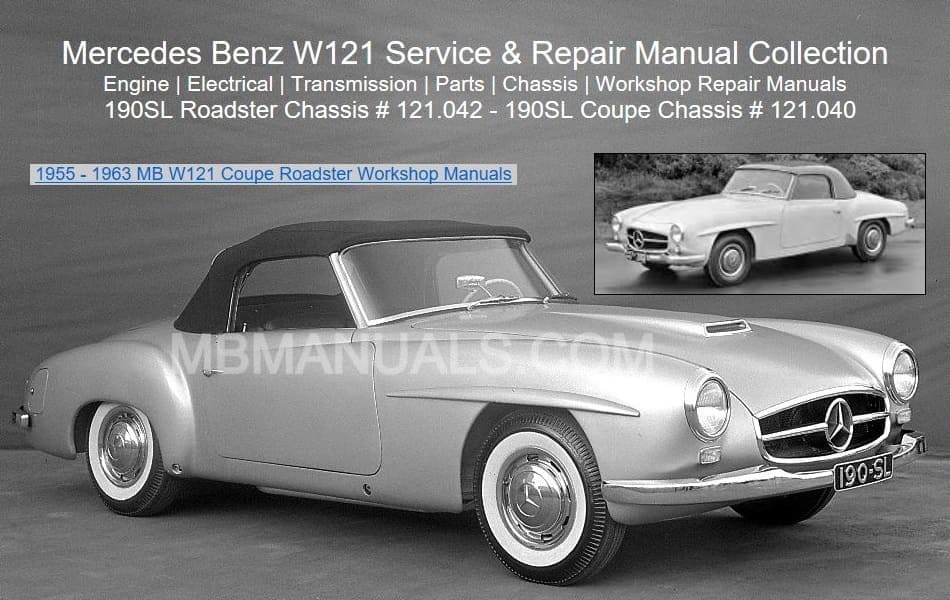 The 190SL manual collection below combines service and repair information for the Mercedes-Benz W121 190SL Coupe, and the W121 190SL Roadster. The Mercedes-Benz W121 series was introduced in 1955 with the Mercedes-Benz 190 SL which sold through 1963. It was powered by the 1.9 liter M121 engine. A W127 220SL Prototype variant built on the 190SL chassis never made it into production.
The W121 190 Sedan manual collection below includes detailed service and repair manuals for the W121 Ponton Saloon's. The 180 and 190 four-cylinders engine Mercedes Sedan models were widely used as German taxis. Jump to Manuals
In 1957, a year after the introduction of the 190 saloon sedan, the Mercedes star atop the external radiator cap was made spring-loaded for safety, to give when bumped.
Mercedes Benz W121 Workshop Repair Manuals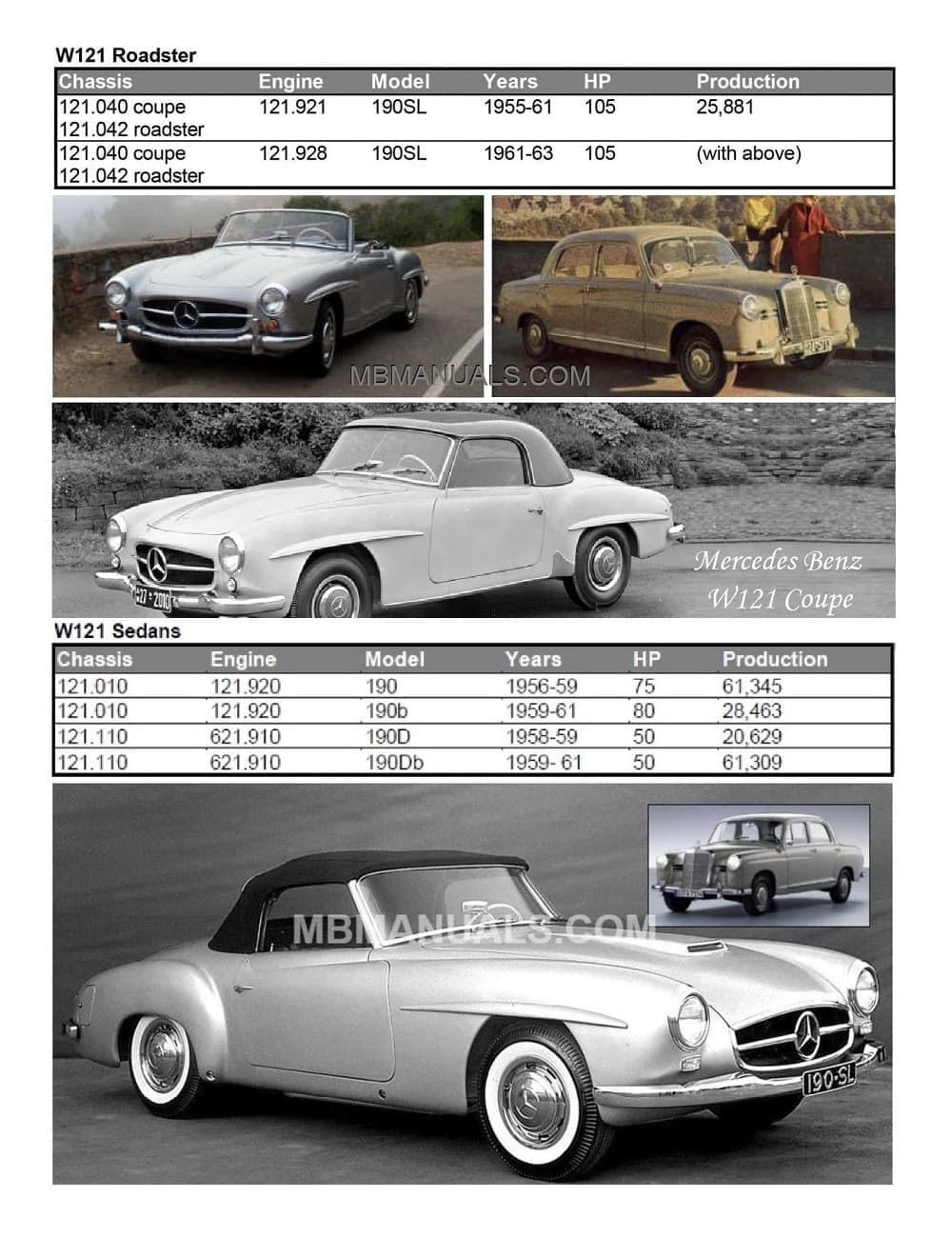 The roadster variant of the W121 sedan, the R121, better known as the 190SL, was produced from 1955 to 1963. W121 190SL History
The Mercedes-Benz 190 SL (W121) is a two-door luxury roadster produced between May 1955 and February 1963. It was first shown in prototype at the 1954 New York Auto Show, available with optional removable hardtop.
The 190 SL was built on a shortened monocoque R121 platform, modified from the W121 small saloon.
The 190 SL was powered by a 105 PS (77 kW; 104 hp) Type M121 BII 1.9 L straight-four SOHC engine. It was fitted with twin-choke dual Solex carburetors, and produced 120 gross hp. This motor with lower hp was later used in the W120 180 and W121 190 sedans.
The 190SL was available either as a soft-top convertible (initially priced at US$ 3,998) or with removable hardtop ($ 4,295). A small third-passenger transverse seat was optional. In its first years the 190 SL was available as a sports-racing model with small perspex windscreen and spartan one-piece leather covered bucket seats along with aluminum doors. In 1959.
W121 190SL R=Roadster / C=Coupe
Type
Chassis
Years
Model
Engine
# Built
C121
121-040
1955-61
190SL
121.921
28,881
R121
121.042
C121
121.040
1961-63
190SL
121.928
R121
121-042

W121 190.. Ponton Sedan Saloon

Type
Chassis
Years
Model
Engine
# Built
W121
121.010
1956-59
190
121.929
61,345
121.010
1959-61
190b
121.929
26,463
121.010
1958-59
190D
621.910
20,629
121.010
1959-61
190Db
621.910
61,309
Additional partial body units built
1,550
W121 sunroof models used chassis 121.011 and 121.111
Mercedes Benz W121 Service and Repair Manuals
W121 Mercedes Benz vehicles were manufactured in the years
1955, 1956, 1957, 1958, 1959, 1960, 1961, 1962, 1963.
Jump To: Select Your MB W121 Manual > Manual Collection | Owners Manual | Engine | Chassis and Body | Climate Control | Electrical | Maintenance | Transmission | 180 thru 220e Service Manual | Solex Carburetor Tuning | Supplements | Service Chart
CD / DVD & Download Orders Work With Windows and Mac Computers. These Manuals are Compatible with many Browsers Including: Chrome | Explorer | Safari etc.
---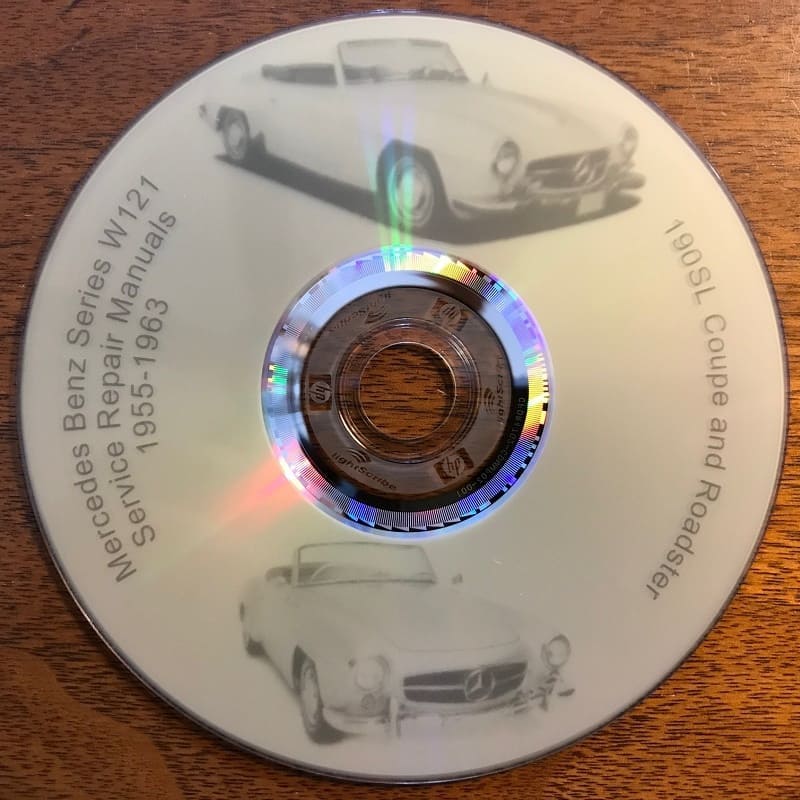 W121 English Language Service Manual Collection
190SL Coupe & Roadster Service Repair Manual's on DVD
PayPal $46.95 + $3.05 Shipping – International
see download option below
---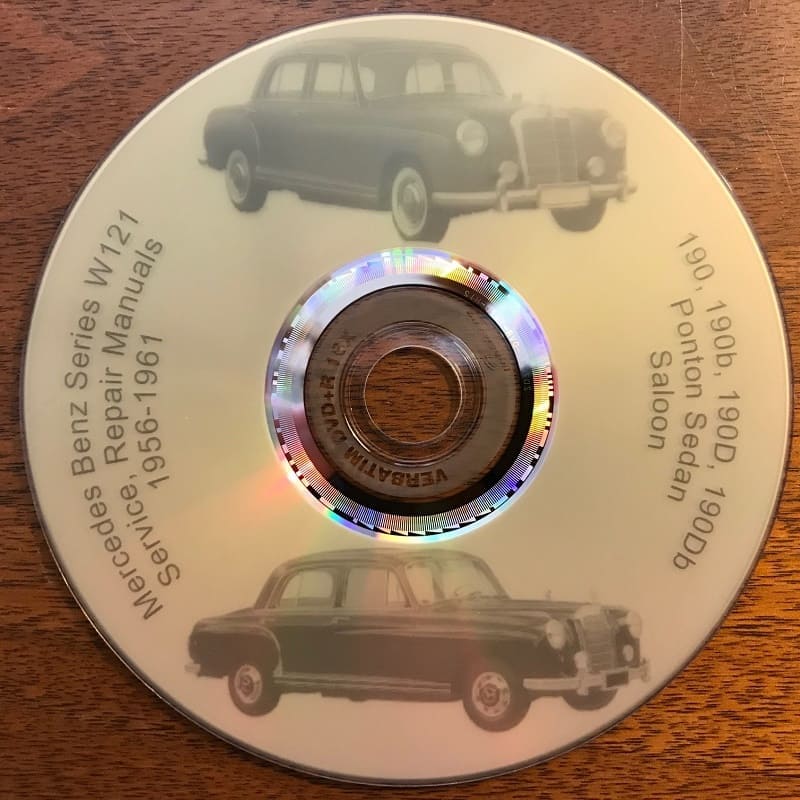 W121 English Language Service Manual Collection
W121 Ponton Sedan Service and Repair Manual's on DVD
PayPal $46.95 + $3.05 Shipping – International
download option below
---
Below: Order Worldwide Download Orders: U.S. and International
You will receive an email with download link after your purchase is complete
The download files may be large so the faster the connection you have the better!
If any problems arise with your download please Contact Us
---
Download English Language: MB W121 190SL Manual Collection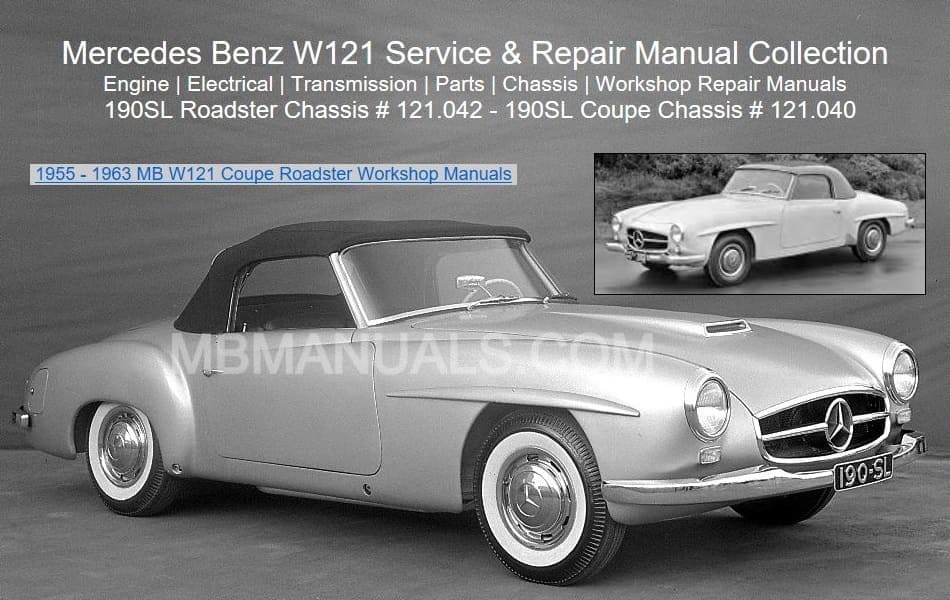 Manual Covers 1955-1963 Models, – 195mb
W121 R121 190SL Roadster, C121 190SL Coupe
Parts catalog, 190 Engine Manual, Transmission, Electrical, Chassis, Heat/AC, Convertible Top
Delivery By Download Link: Sent to your PayPal email address: $24.95
---
Download English Language: MB W121 Sedan Manual Collection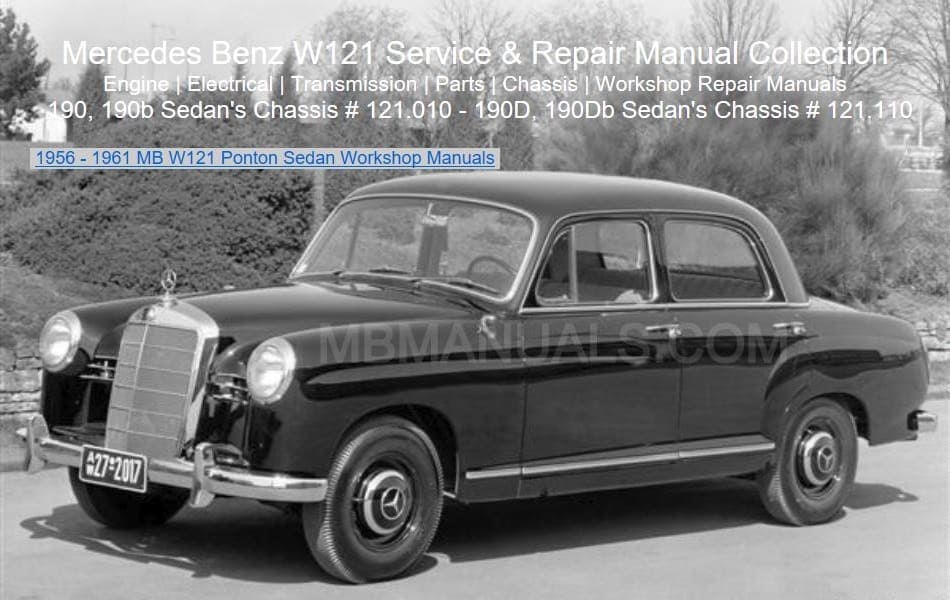 Manual Covers 1956-1961 Models, – 299mb
W121 190, 190b, 190D, 190Db Ponton Sedan, Saloon
Parts catalog, Engine, Transmission, Electrical, Chassis, Heat System, Workshop Manuals
Delivery By Download Link: Sent to your PayPal email address: $24.95
---
Download English Manuals: MB W121 Owners Manuals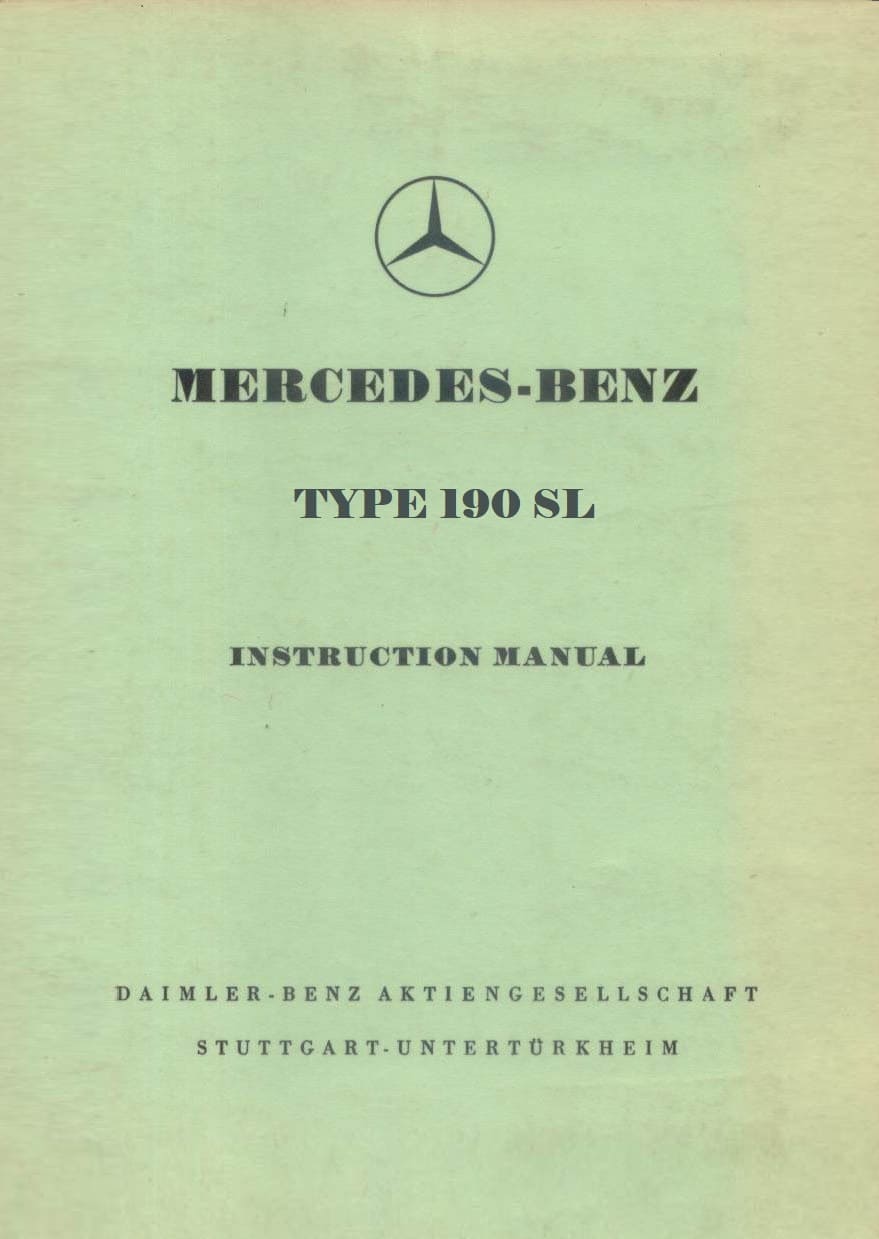 Select Mercedes Benz Model Owners Manual Below
Delivery By Download Link: Sent to your PayPal email address: $9.95
---
Download English Manuals: MB W121 Electrical Diagram & Harness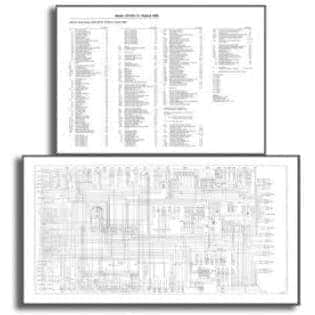 Mercedes Benz W121 190 Electrical Diagrams .pdf
Electrical Diagram Schematic + Wiring Harness Loom
Delivery By Download Link: Sent to your PayPal email address: $9.95
---
Download: MB W121 Maintenance and Scheduled Service Charts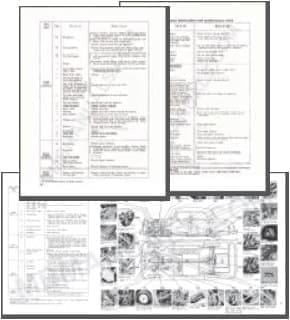 190, 190b, 190D, 190Db, 190SL
Delivery By Download Link: Sent to your PayPal email address: $4.95
---
Download English Manuals: MB 121 Solex Carburetor Tuning Manual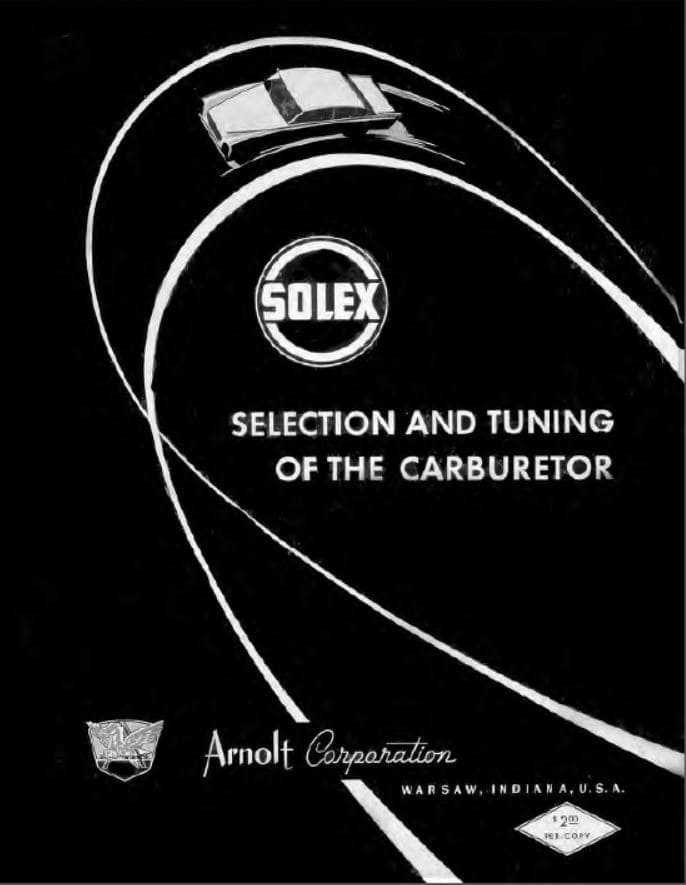 Collection of Solex Carb Manuals, 11.64mb, 68 pages, .pdf
Includes 2 Solex Manuals and Tuning Articles
Delivery By Download Link:
Sent to your PayPal email address: $9.95
---
Download, English Language: MB 121 W121 Service Manual
W121 190 Service Manual 628 pages, 86.1mb .pdf
Mercedes 190 Service Manual
180 – 220SE Service Repair Manual
Delivery By Download Link:
Sent to your PayPal email address: $14.95
---
FREE – MB W120 W121 Supplements and Articles