MB 112 – W112 Service Repair Manuals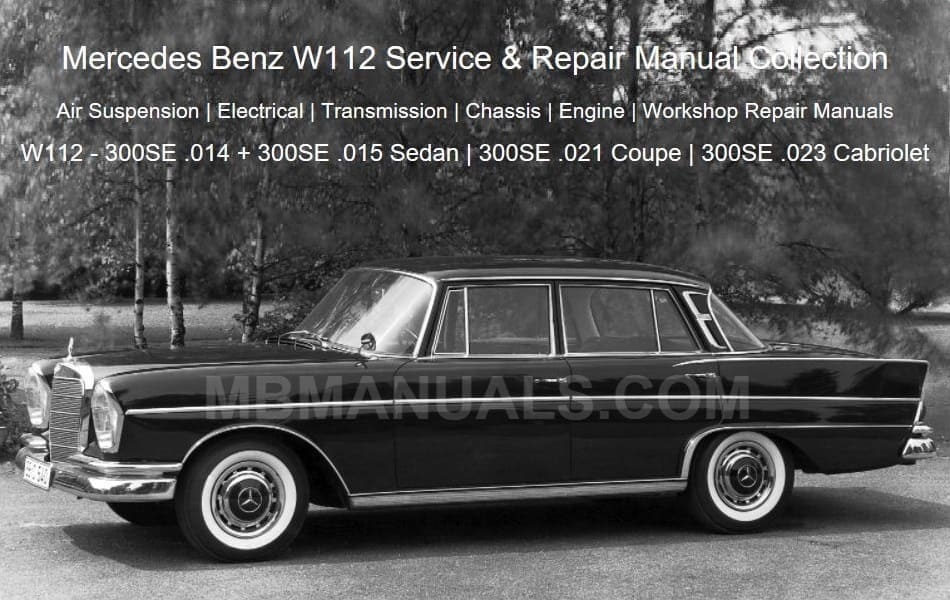 The Mercedes Benz W112, premiered as the 300SE, and the series was manufactured from 1961 to 1967. It was available in three different body styles including the coupé, convertible, and sedan.
The 112 models were based on the Mercedes-Benz W111 Fintail chassis and coachwork, but fitted with the 3.0 litre fuel-injected M189 big-block six-cylinder engine. They also included standard luxury features such as air suspension, power steering, automatic transmission, and a higher level of wood and leather trim. The stretched wheelbase 300SEL appeared in 1963. Jump to Manuals
Shared Chassis and Body, Model Variants
Mercedes Benz W112 Workshop Repair Manuals
The W112 differed from its W110 and W111 predecessors externally by displaying substantially more chrome, along with bigger 14″ wheels, along with functional and interior Luxury features such as power steering, air suspension, and automatic transmission (though a manual transmission would return as an option).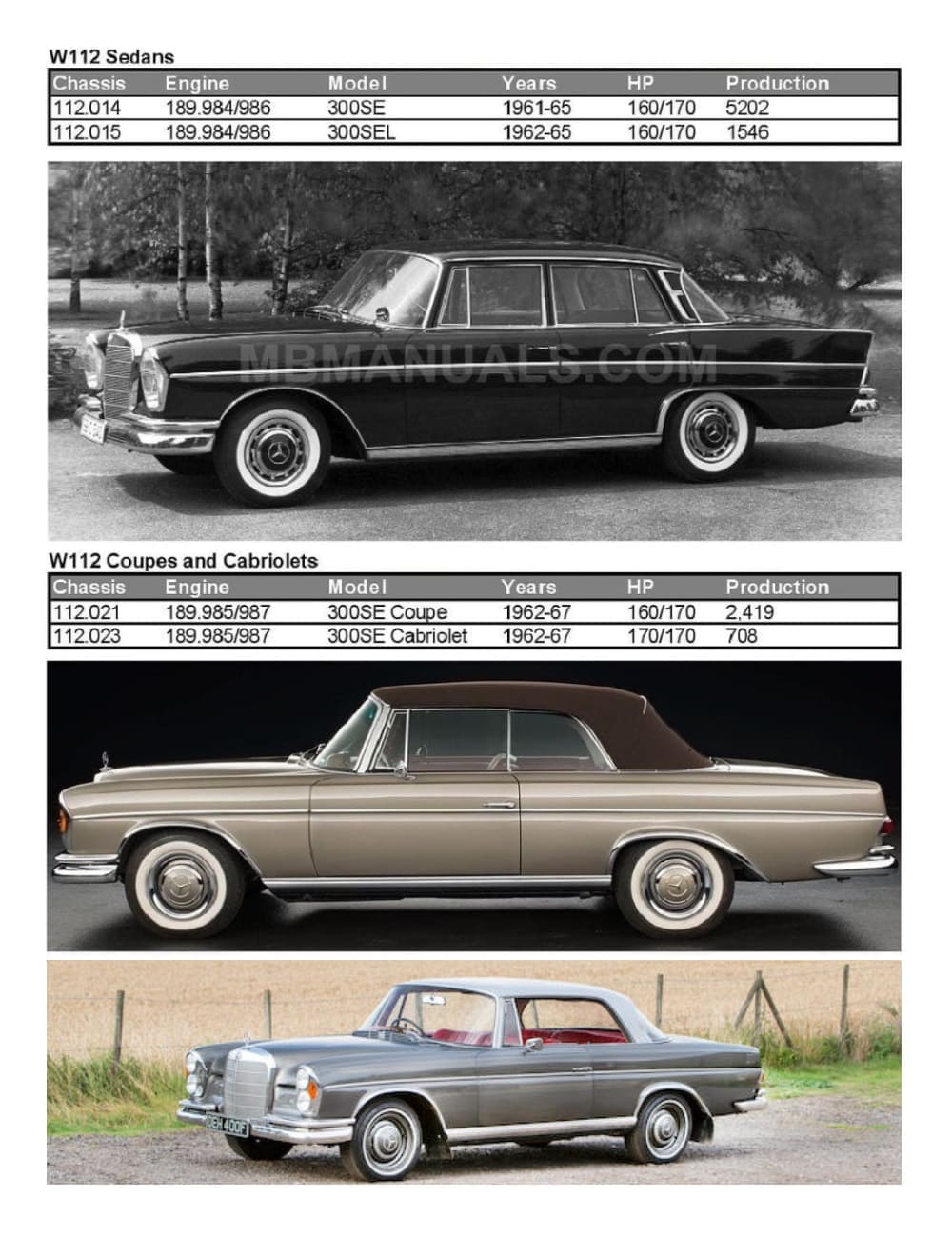 W112 Models: 300SE / 300SE long
Production: 1961–1965 (4-door)
Production: 1962–1967 (2-door)
Assembly: Stuttgart Untertürkheim, Germany
Chassis
Class: Full-size luxury car
Body styles
4-door sedan
2-door coupe
2-door convertible
The 300SE's performance was at the top of the Mercedes line at the time, with the M189 six-cylinder engine producing 160 hp (170 after 1964) and giving a top speed of 180 km/h (190 after 1964. There glamour came at a steeper cost, almost twice the price of the top range W111 220SE.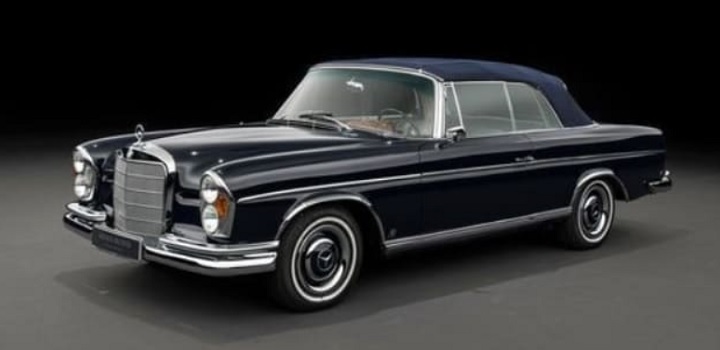 The W112 turned out to be a very short-lived venture. With the company's top niche filled by the 600, demand for the W112 plummeted and production volume fell drastically: in 1962 a total of 2,769 were built, but the next year this fell to 1,382, and in 1965 production of the W112 was phased out.
Mercedes W112 Models

Type
Chassis
Years
Model
Engine
# Built
W112 Sedan's
112.014
1961-65
300SE
189.984
5,202
112.014
1961-65
300SE
189.986
112.015
1962-65
300SE
189.984
1,546
112.015
1962-65
300SE
189.986
W112 Coupe's
112.021
1962-67
300SE
189.985
2,419
112.021
1962-67
300SE
189.987
W112 Cabriolet's
112.023
1962-67
300SE
189.985
708
112.023
1962-67
300SE
189.987
W112 Mercedes Benz vehicles were manufactured in the years
1961, 1962, 1963, 1964, 1965, 1966, 1967
Mercedes Benz W112 Repair Manuals
Jump To: Select Your MB W100 Manual > Manual Collection | Owners Manual | Engine | Chassis and Body | Climate Control | Electrical | Maintenance | Transmission | Supplement & Articles |
CD / DVD & Download Orders Work With Windows and Mac Computers. These Manuals are Compatible with many Browsers Including: Chrome | Explorer | Safari etc.

Below: Order Worldwide Download Orders: U.S. and International
You will receive an email with download link after your purchase is complete
The download files may be large so the faster the connection you have the better!
If any problems arise with your download please Contact Us
---
Download English Language Manuals: MB 112 Manual Collection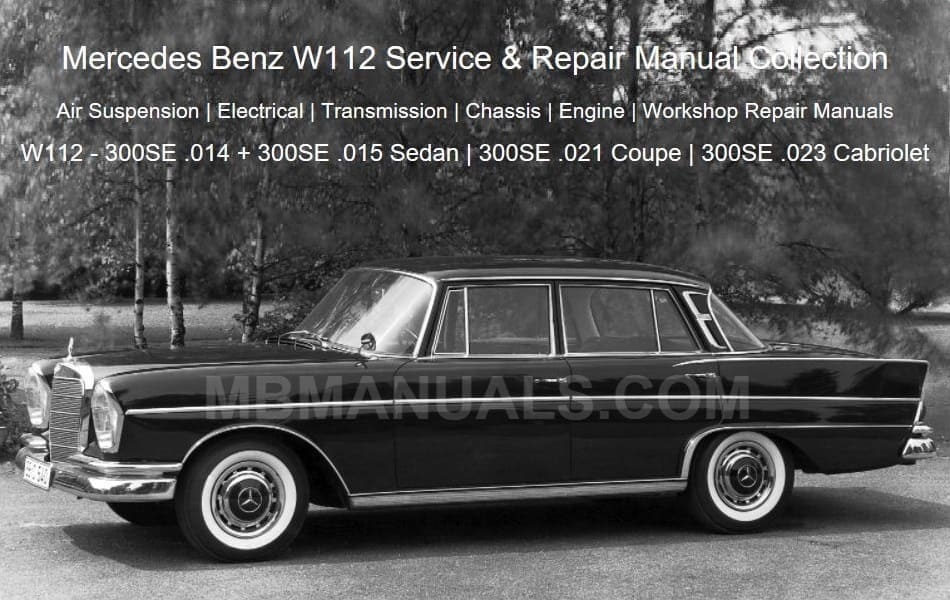 Manual Covers 1961-1968 Models, – 195mb
MB W112 – 300SE 112.014 | 300SE 112.015
300SE 112.021 Coupe | 300SE 112.023 Cabriolet
Workshop Service Repair Manual, Engine, Transmission, Electrical, Chassis, Heat/AC
Delivery By Download Link: Sent to your PayPal email address PayPal $24.95
---
Download English Language Manuals: MB W112 300SE Owners Manuals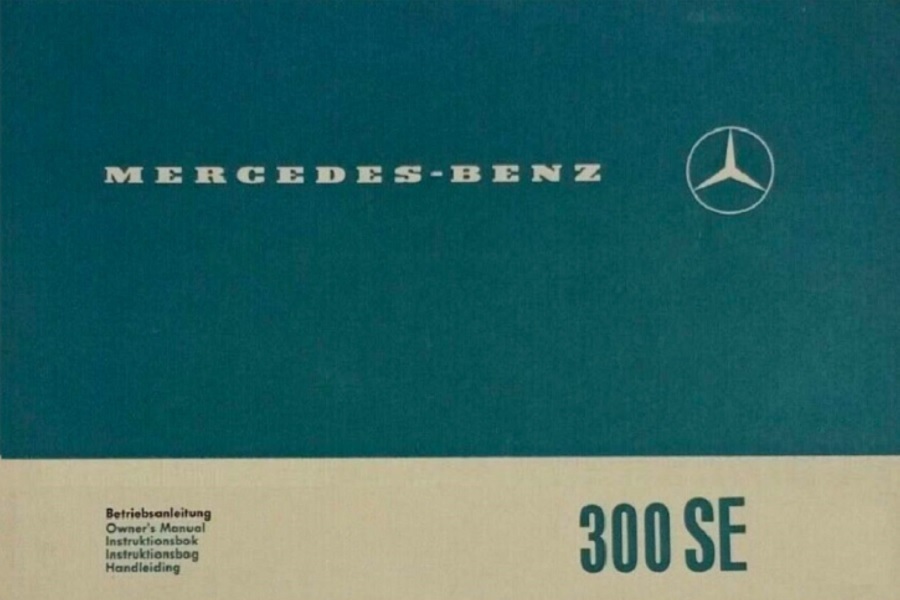 MB W112 300SE Owners Manual 22.4mb, 168 pages: missing multi language menu index pages
Sedan Coupe Cabriolet: German, English, +++
Delivery By Download Link: Sent to your PayPal email address: PayPal $4.95
missing multi language index pages: submit yours for credit contact us
---
Download Multi Language: MB W112 300SE Sedan Coupe Cabriolet Electrical Diagram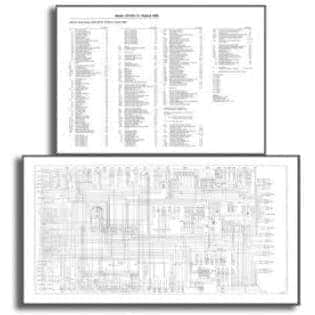 Mercedes W112 300SE Electrical Diagrams .pdf
Wiring Schematic + Harness Color Codes
Sedan Coupe Cabriolet
Delivery By Download Link: Sent to your PayPal email address: $9.95
---
Download English Language: Mercedes 1959-1967 Service Manual
Includes Volume 1 and Volume 2
Volume 1 .pdf Version 70.2mb, 441 pages
Volume 2 .pdf Version 79.7mb, 490 pages
Combined in a compressed .zip file for download - 144mb
Covers Mercedes Benz Series 108, 109, 110, 111, 112, 113
W108, W109, W110, W111, W112, W113
Delivery By Download Link:
Sent to your PayPal email address: $9.95
---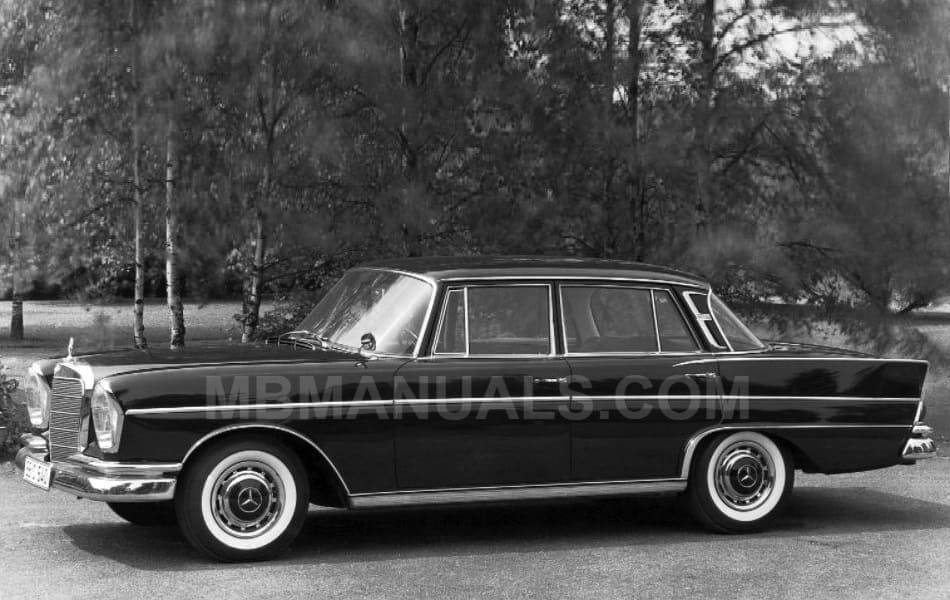 FREE – MB W112 Supplements and Articles