MB 105 – W105 Service Repair Manuals
The Mercedes-Benz W105 series was part of the "Ponton" family. Produced by Mercedes-Benz from 1956 to 1959, it was marketed as the Mercedes-Benz Type 219, and featured a 2.2 L inline 6-cylinder engine. Jump to Manuals
The Mercedes W105 219 design from the a-pillar forward was identical to the long-nosed 220a, including the single-carburetor 2.2 Liter 6-cylinder engine. However, from the a-pillar back, it used the shorter body of the W120 180 / W121 190 models. This difference can be identified by the one-piece windows in the rear doors, as opposed to the 220a and 220S having separate quarter windows.
The interior of the 219 used the simpler instrumentation of the smaller 180 and 190 sedans, along with bakelite trim instead of wood grain.
Mercedes Benz W105 Workshop Repair Manuals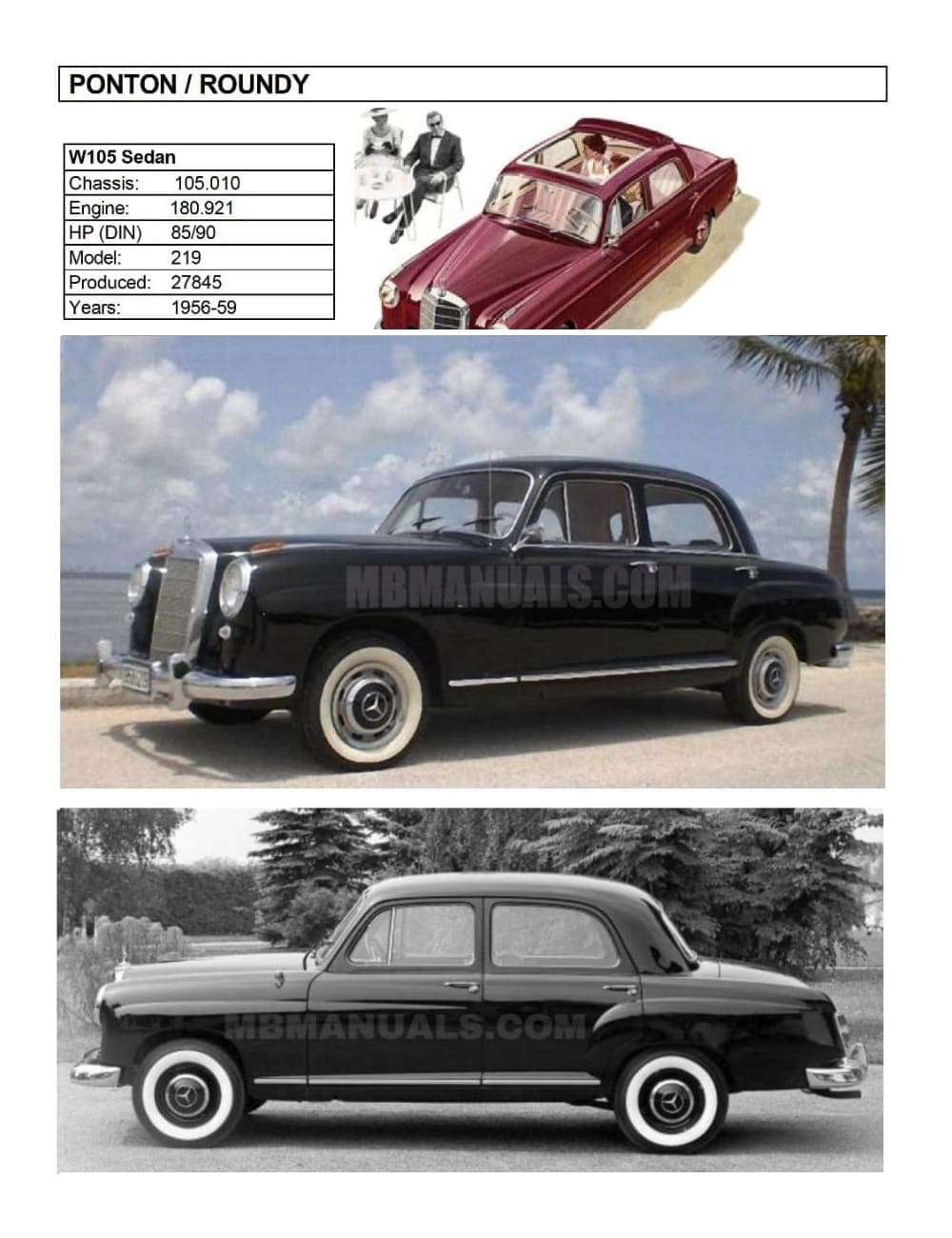 The 105 manual collection below combines service and repair information for the Mercedes-Benz W105 219 Sedan's.
Mercedes-Benz 219 (W105)
Manufacturer: Mercedes-Benz
Production: 1956-1959
Number Built: 27,845
Body and Chassis
Class: Luxury Car
Body Style: 4-door sedan
Powertrain: Engine 2195 cc M180 II straight-6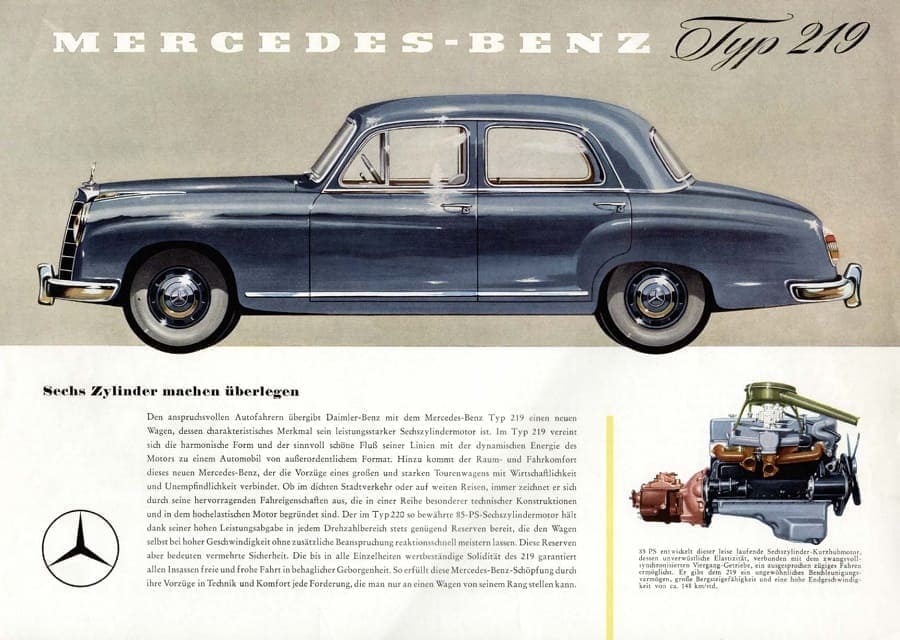 The W105 series 219 Mercedes-Benz offered rear wheel drive, a front mounted engine and a 4 door saloon (sedan) body style. Its engine is a naturally aspirated petrol, 2.2 liter, single overhead camshaft 6 cylinder with 2 valves per cylinder.
This unit develops 89 bhp (90 PS/66 kW) of power at 4800 rpm, and maximum torque of 167 N·m (123 lb·ft/17 kgm) at 2400 rpm. It came with a standard 4 speed manual shift gearbox transmission. The 219 weighs a quoted 1260 kg at the kerb. Maximum speed stated is 148 km/h (92 mph).
W105 Ponton Sedan Saloon

Type
Chassis
Years
Model
Engine
# Built
W105
105.010
1956-59
219
180.921
27,845
Mercedes Benz W105 Service and Repair Manuals
W105 Mercedes Benz vehicles were manufactured in the years
1956, 1957, 1958, 1959
Jump To: Select Your MB W105 Manual > Manual Collection | Owners Manual | #Engine | Chassis and Body | Climate Control | Electrical | Maintenance/Service Chart | Transmission | Service Manual | Supplements
CD / DVD & Download Orders Work With Windows and Mac Computers. These Manuals are Compatible with many Browsers Including: Chrome | Explorer | Safari etc.
---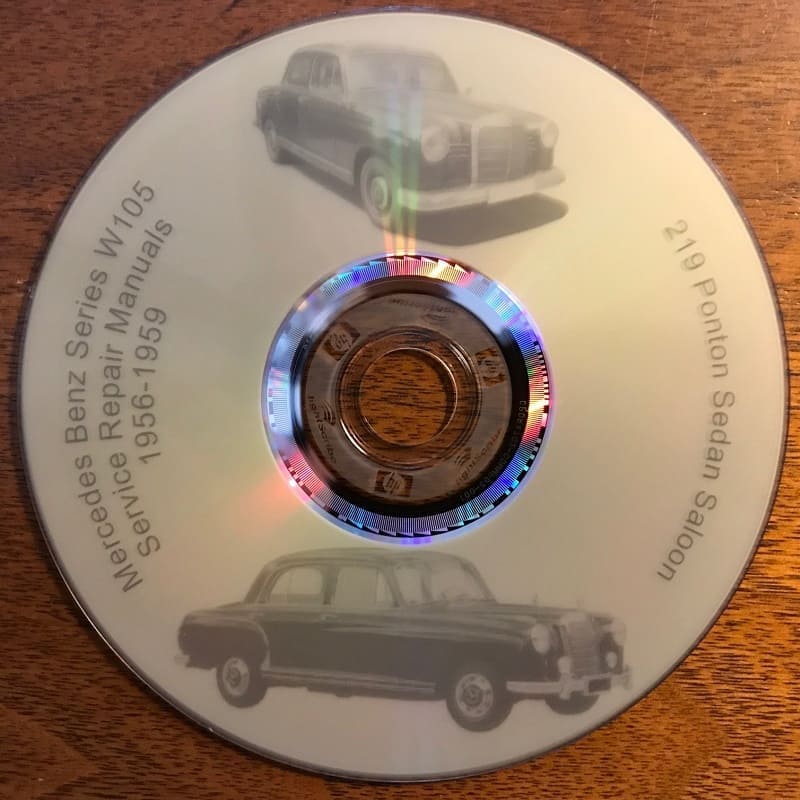 W105 English Language Service Manual Collection
219 Sedan Service Repair Manual's on DVD
PayPal $46.95 Sale $34.95 + $3.05 Shipping – International
see download option below
---
Below: Order Worldwide Download Orders: U.S. and International
You will receive an email with download link after your purchase is complete
The download files may be large so the faster the connection you have the better!
If any problems arise with your download please Contact Us
---
Download English Language: MB W105 Sedan Manual Collection
Manual Covers W105 1956-1959 Models, – 281mb
219 Ponton Sedan Saloon
Engine, Transmission, Electrical, Chassis, Heat System
Workshop Service Repair Manuals
Delivery By Download Link: Sent to your PayPal email address: $24.95
---
Download English Language Manuals: M180 Engine Motor Manual
Mercedes M180 Engine Manual 34.1mb, 182 pages
Application W105, W110, W111, W180, W187, Unimog
Delivery By Download Link:
Sent to your PayPal email address: $14.95
---
Download English Manuals: MB W105 219 Owners Manuals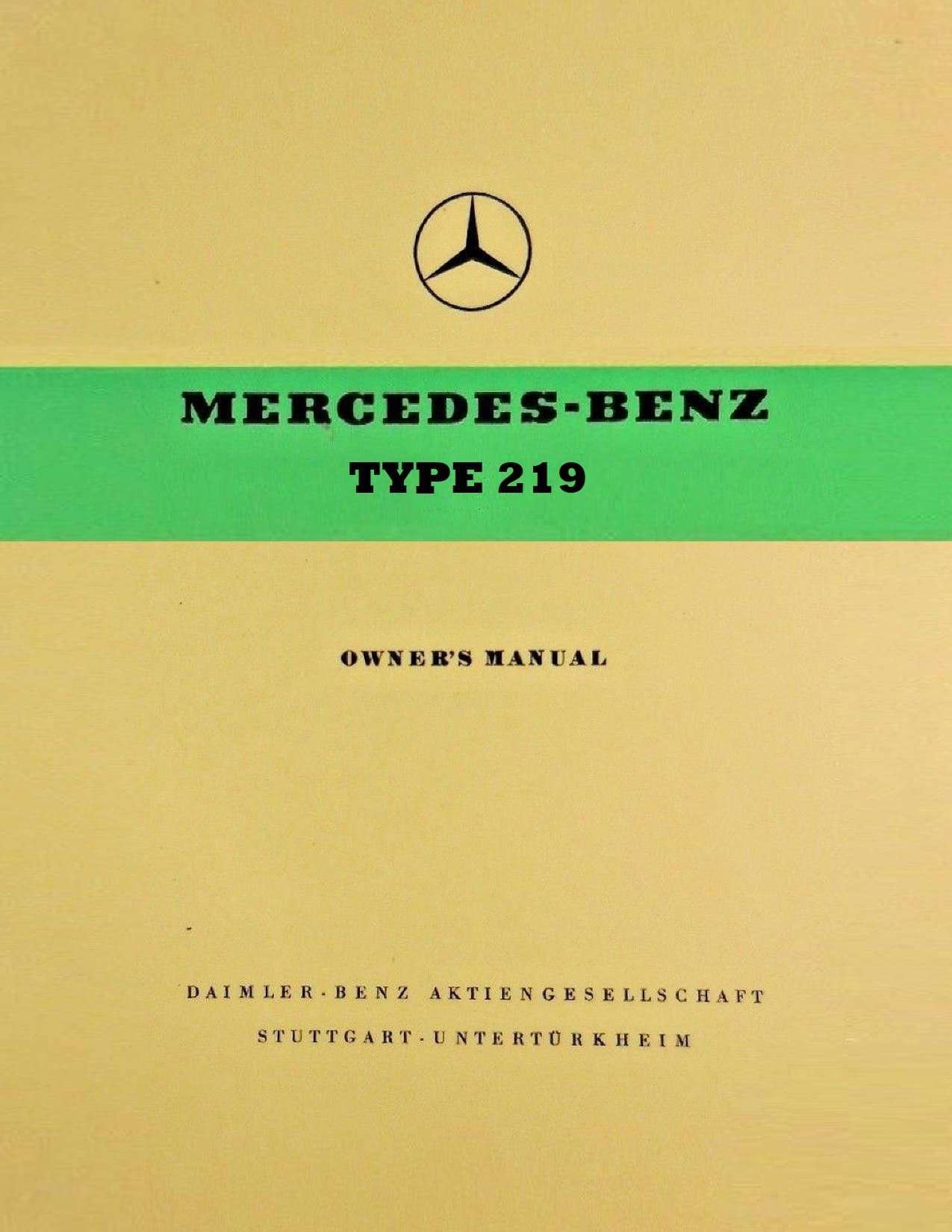 Select Mercedes Benz Model Owners Manual Below
219 Saloon, Ponton, Sedan
Delivery By Download Link: Sent to your PayPal email address: $9.95
---
Download English Manuals: MB W105 Electrical Diagram & Harness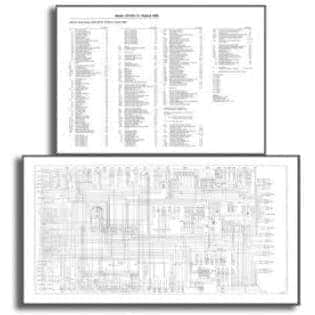 Mercedes Benz W105 219 Electrical Diagrams .pdf
Electrical Diagram Schematic + Wiring Harness Loom
Delivery By Download Link: Sent to your PayPal email address: $7.95
---
Download: MB W105 219 Maintenance and Scheduled Service Charts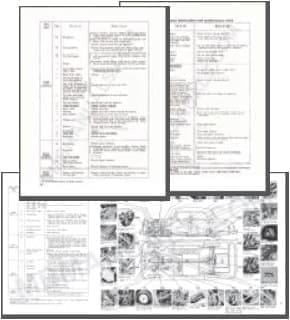 219 Ponton Sedan Saloon
Scheduled Service Charts
Delivery By Download Link: Sent to your PayPal email address: $4.95
---
Download English Manuals: MB W105 219 Service Manual
W105 219 Service Manual 628 pages, 86.1mb .pdf
Mercedes 220SE Service Manual
219 Service Repair Manual
Covers Mercedes Model W105 219
Delivery By Download Link: Sent to your PayPal email address: $14.95
---
FREE – Mercedes Benz W105 219 Supplements and Articles