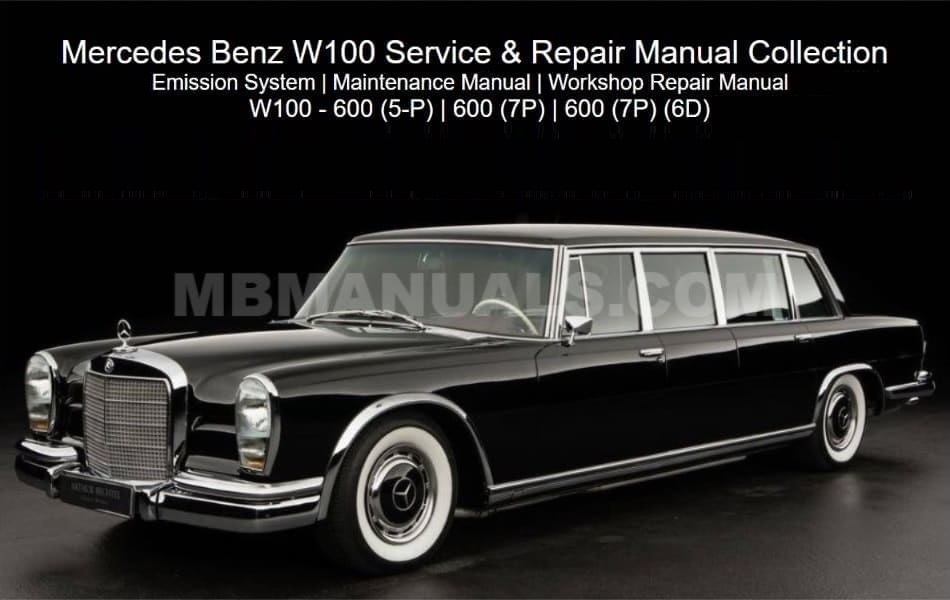 The Mercedes Benz W100 Series carried the model 600 Pullman which offered high-end luxury sedans and limousine body styles. These models were produced from 1963 to 1981. They included Chassis #'s 100.012, 100.014, 100.615, 100.016, 100.617, all with Engine # 100.980 25ohp.
Jump to Manuals
The 600 Pullman came in several variants:
A short wheelbase 4-door sedan, available with optional power divider window separating front seats from rear bench seat, most were built without this feature.
A long wheelbase 4-door Pullman limousine (*), of which 304 were built with two additional rear-facing seats.
A long wheelbase 6-door limousine (*) (with two forward-facing jump-seats at the middle two doors and a rear bench-seat).
A number of the Pullman limousines were made as landaulets (*), with a convertible top over the rear passenger compartment. Production of this model ended in 1980.
* = separated from driver by chauffeur operated power divider window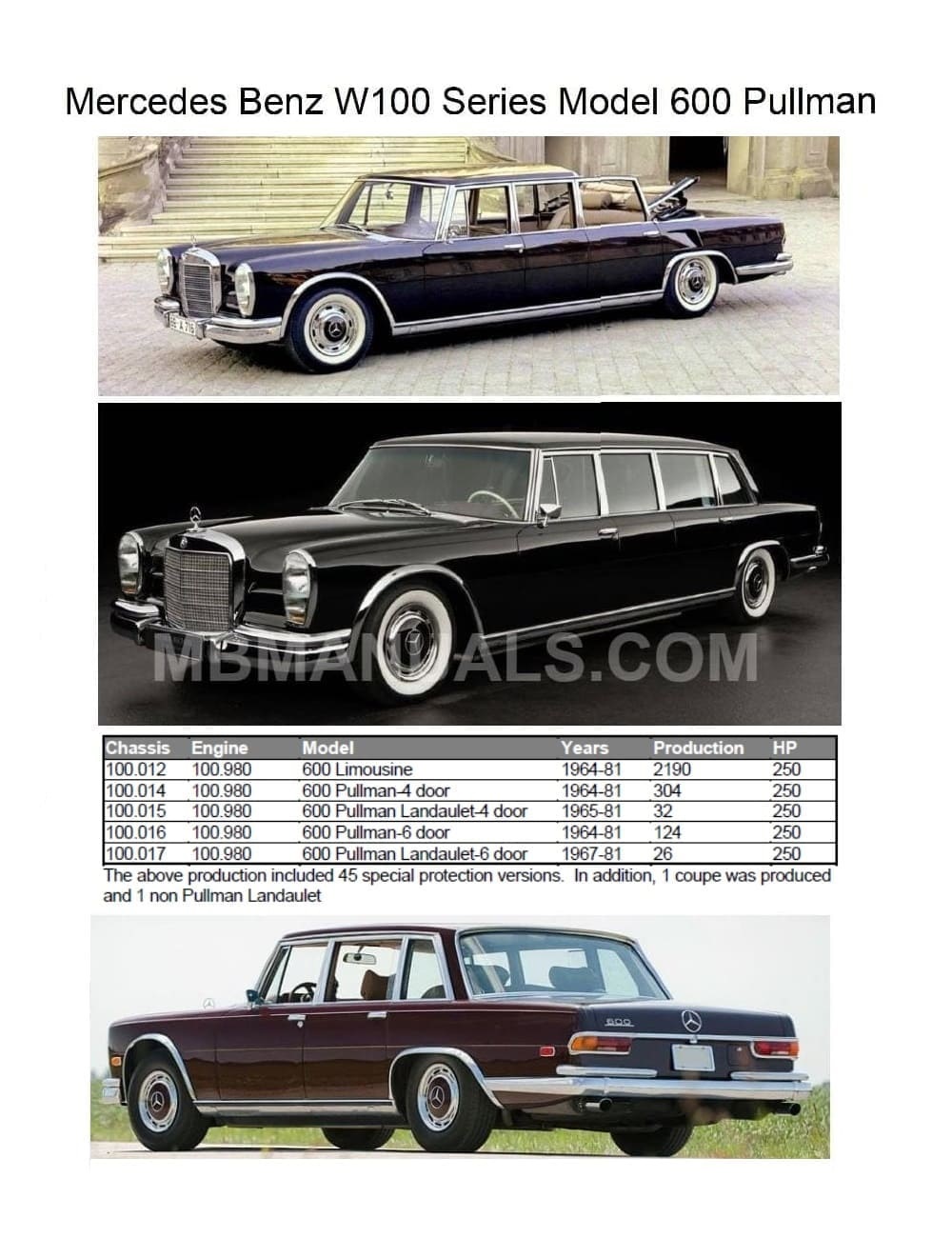 The model 600 marked the last super-luxury model produced in an unbroken line from 1963 to 1981. During this time, production totaled 2,677 units, comprising 2,190 Saloons, 304 Pullmans, 124 6-door Pullmans and 59 Landaulets.
short 4-door sedan
long 4-door sedan (Pullman)
6-door limousine (Pullman)
long 4-door landaulet (Pullman)
Mercedes Benz W100 Series
600 Pullman Workshop Manuals
W100 Mercedes Benz vehicles were manufactured in the years 1963, 1964, 1965, 1966, 1967, 1968, 1969, 1970, 1971, 1972, 1973, 1974, 1975, 1976, 1977, 1978, 1979, 1980, 1981 and included the following models 600's: Short 4 door sedan, long 4 door sedan Pullman, long 4 door landaulet convertible Pullman, long 6 door limousine Pullman.
Jump To: Select Your MB W100 Manual > Manual Collection | Owners Manual | Engine | Chassis and Body | Climate Control | Electrical | Maintenance | Transmission |
CD / DVD & Download Orders Work With Windows and Mac Computers. These Manuals are Compatible with many Browsers Including: Chrome | Explorer | Safari | Firefox etc. Manuals are in pdf and flash format, zoom, view, print pages or diagrams.
Below: Order Worldwide Download Orders: U.S. and International
You will receive an email with download link after your purchase is complete
The download files may be large so the faster the connection you have the better!
If any problems arise with your download please Contact Us
---
Download English Language Manuals: MB 100 Manual Collection

Download Desktop PC Installation Version 189mb
English Language: Covers 1967 1972 Models
W100 – 600 (5-P) | 600 (7P) | 600 (7P) (6D)
Emissions System, Maintenance Manual, Engine Manual, Auto DB-Transmission, Electrical, Chassis, Heat/AC
Delivery By Download Link: Sent to your PayPal email address
PayPal $24.95
---
Download English Language Manuals: MB W100 600 Pullman Owners Manuals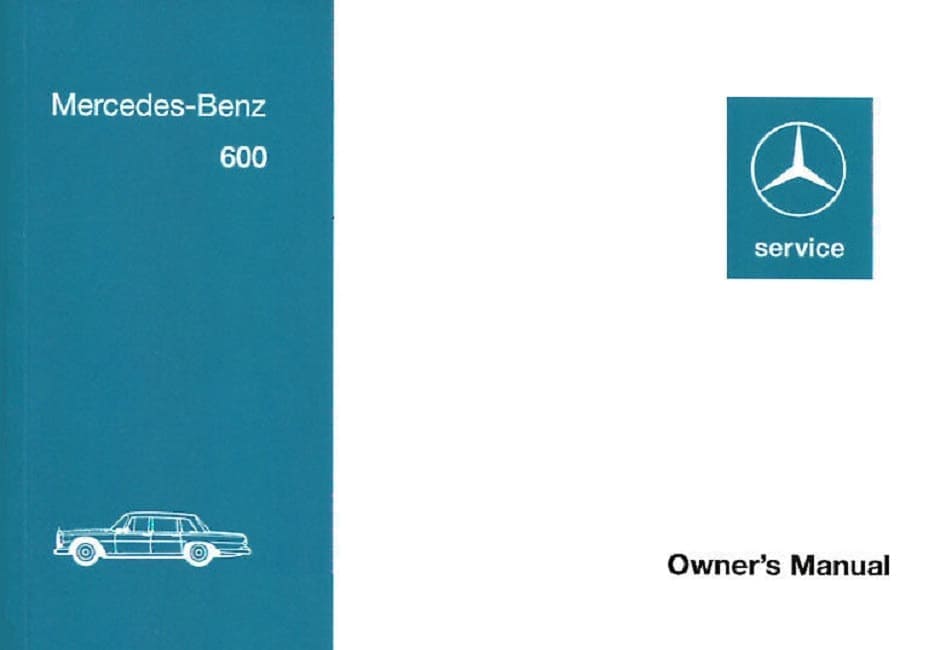 W100 Owners Manual 10.8mb, 70 pages, missing index menu page
Delivery By Download Link: Sent to your PayPal email address: $5.95 missing index page, submit this page for credit: contact us
---
Download English Manuals: MB W100 600 Pullman Electrical Diagram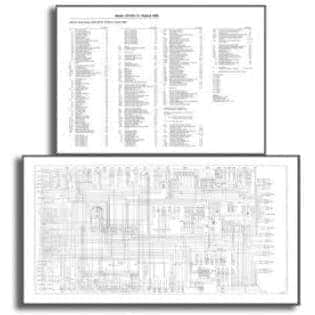 Mercedes Benz W100 600 Electrical Diagram .pdf
Electrical Diagram Schematic + Wiring Harness Color Codes
Delivery By Download Link: Sent to your PayPal email address: $9.95
---
Download English Manuals: MB W100 600 Pullman Maintenance Booklet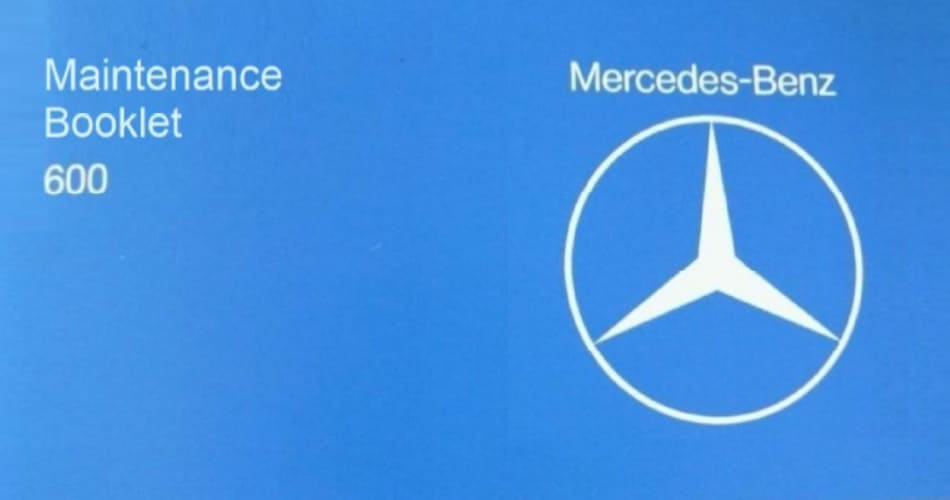 Mercedes Benz W100 600 Maintenance Booklet .pdf
Maintenance Booklet for Scheduled Service
FREE Download: Maintenance Booklet, enjoy!
---
FREE Download, English Language: MB 100 Articles & Guides
Suspension Troubleshooting 1.6mb
MB 600 Pullman History 5.89mb
MB 600 Enthusiast Article 1.83mb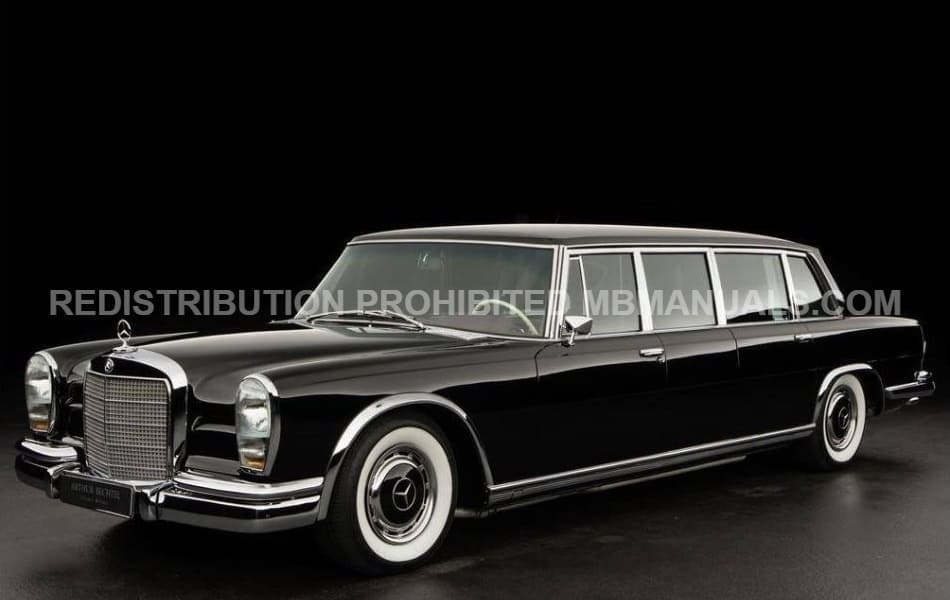 ---
MERCEDES-BENZ
W100 Production – Model 600
The 600 model – the Grosser Mercedes – was introduced at the Frankfurt Auto Show in 1963. It restored the tradition of sumptuous luxury and ultimate prestige for the Mercedes-Benz.
A new V-type eight-cylinder engine of 6.3 liters (6,329 cubic centimeters) developing 250 horsepower (300 SAE) powered this newest edition of the great Mercedes to a maximum speed of 205 kilometers (127 miles) per hour. The 600 model was available in two body styles: a 5/6-seat limousine or 7/8-passenger Pullman with wheelbases of 3,200 millimeters (126 inches) and 3,900 millimeters (153.5 inches), respectively. Overall length was 218 and 246 inches. From 1965 on, a Landaulet also became available.
This fine automobile incorporated all modern design elements: fuel injection, overhead camshaft engine, air suspension and shock absorber adjustment, disc brakes on all four wheels, automatic four-speed transmission and power steering, central vacuum locking system for the doors and luggage compartment, adjustable steering wheel, and two separate heating and ventilating systems. It was truly a majestic car of the highest order, an honorable descendant of the distinctive Mercedes automobiles of former years.
Production Figures Model 600 Limousine & Pullman
| | | |
| --- | --- | --- |
| Production Year | Limousine Units Built | Pullman Units Built |
| 1963 | 2 | 1 |
| 1964 | 99 | 8 |
| 1965 | 345 | 63 |
| 1966 | 293 | 30 |
| 1967 | 138 | 21 |
| 1968 | 184 | 39 |
| 1969 | 279 | 57 |
| 1970 | 198 | 38 |
| 1971 | 186 | 51 |
| 1972 | 172 | 38 |
| 1973 | 64 | 18 |
| 1974 | 24 | 28 |
| 1975 | 25 | 17 |
| 1976 | 33 | 14 |
| 1977 | 36 | 19 |
| 1978 | 28 | 12 |
| 1979 | 36 | 17 |
| 1980 | 33 | 11 |
| 1981 | 15 | 5 |
| Total | 2,190 | 487 |